ATXA Therapeutics secures €2.5M in Horizon 2020 SME funding
ATXA Therapeutics Ltd, a University College Dublin (UCD) life sciences spin-out, which is developing novel therapeutic drugs to treat pulmonary arterial hypertension (PAH), and other related cardiovascular conditions, has secured €2.5 million in funding under the European Union's Horizon 2020 SME Instrument Programme Phase 2.

The company is one of just three Irish companies to secure funding in this latest round. Only 64 companies from across Europe, out of 1280 applications, were successful in securing funding and were granted a total of €110 million.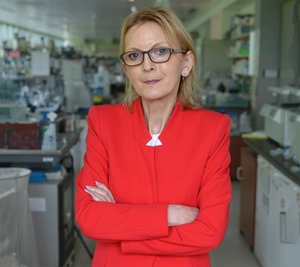 ATXA Therapeutics was founded by Conway Fellow, Professor Therese Kinsella (pictured) as a spin-out from the UCD School of Biomolecular and Biomedical Science at the UCD Conway Institute.

Pulmonary arterial hypertension (PAH) is a devastating disease of the lung and heart with an urgent unmet need for new improved therapies. While the condition itself is classed as a rare or orphan disease, affecting 15-50 patients per million of the population, it carries an enormous health burden with an annual spend of $6 billion globally on prescribed medicines alone.

ATXA has recently been awarded orphan designation from the European Medicines Agency and from the FDA for NTP42, its lead drug for PAH. Securing the Horizon 2020 SME Instrument Award will be a key accelerant in bringing ATXA's NTP42 closer to the market by advancing the drug into clinical development.

Professor Therese Kinsella, founder and chief-scientific officer, ATXA said, "This is a wonderful endorsement of ATXA's overall mission and validation of its achievements to date. We hope that this strong Europe-wide recognition of ATXA's overall goal of bringing a new drug to the market for PAH will go a long way to bringing other investors on-board as part of its current fund-raise campaign."

Tom Flanagan, UCD's Director of Enterprise and Commercialisation said, "I would like to congratulate ATXA Therapeutics, a UCD life sciences spin-out company, on today's announcement that it has secured €2.5 million in the latest Horizon 2020 SME Instrument funding round. This is a significant milestone which will enable the ATXA team to drive the company forward in its development of novel therapeutic drugs to treat pulmonary arterial hypertension."

He added, "ATXA was one of only three Irish companies, out of 64 companies across Europe, to secure funding in this latest round which demonstrates the quality and global impact potential of the companies emerging from the world-class research programmes taking place at the University. UCD spin-outs have a strong track record in securing Horizon 2020 SME Instrument funding and today's announcement builds on the previous success of companies such as OncoMark and SiriusXT."

Carlos Moedas, EU Commissioner for Research, Science and Innovation, said, "Supporting innovation as a source of growth and job creation is at the core of the European Innovation Council. We support close-to-market projects, giving them a head start in the race to the market with a fast access to funding and business innovation support."

The national support network for Horizon 2020, the EU's programme for research and innovation, is funded by the Irish Government through Enterprise Ireland. From the programme's inception in 2014 to January 2018, Ireland has secured over €513 million through Horizon 2020.

Imelda Lambkin, National Director for Horizon 2020 said, "Ireland's highly innovative SMEs have a strong success rate in Europe for the Horizon 2020 SME Instrument and we are delighted that three more have won significant funding in this round. The success of Irish companies at a European level is built on Enterprise Ireland supports which aim to develop the innovative solutions and capability of SMEs to win Horizon 2020 funding."

The other two Irish companies to receive Horizon 2020 SME Instrument Programme Phase 2 funding are AuriGen Medical and Metabolomic Diagnostics. In addition a fourth Irish company, Deciphex Ltd, will receive funding under the Fast Track to Innovation Scheme.

The European Commission will support a total of 79 innovative projects under the European Innovation Council (EIC) pilot to bring their innovations faster onto the market. In total, the projects are to receive just over €146 million under the SME Instrument (Phase 2) and Fast Track to Innovation strands of the EIC pilot.