The Patient Voice in Cancer Research
The fourth open forum event in The Patient Voice in Cancer Research series took place on April 11th 2018 in UCD Charles Institute. The initiative, led by Dr Amanda McCann, Associate Professor and Head of Pathology in UCD School of Medicine and Fellow of UCD Conway Institute, brings people living with cancer and their families together with health care professionals, academic and clinical researchers; clinicians, patient advocates; funding agencies, policy makers and charity groups.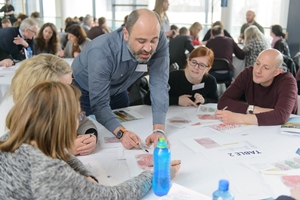 Pictured: Dr David Gomez, Systems Biology Ireland leads participants in the facilitated session on next-generation sequencing at The Patient Voice in Cancer Research event.

The main topic under discussion was the advanced genetic tests that are becoming an increasingly important part of modern cancer care. Dr Brendan Doyle, Consultant Histopathologist in Beaumont Hospital and RCSI demystified biomarkers and next generation sequencing for the audience of more than ninety people.

This led into a lively discussion forum led by an expert panel that also included Dr Aurelie Fabre, Consultant Pathologist, St Vincent's University Hospital & UCD School of Medicine; Dr Robert O'Connor, Head of Research, Irish Cancer Society; Sarah McLoughlin, PhD who recently completed the first IPPOSI-led Patient Education Programme in Health Innovation and Professor Walter Kolch, Systems Biology Ireland.

There was also an opportunity for participants to see how next-generation sequencing results can be interpreted in the clinical setting as table facilitators guided them through a series of images of these test results.
Patient support organisations such as Purple House, ARC Cancer Support Centres, OVCARE/ SOCKS and IPPOSI were in attendance at the exhibition area as well as those representing research projects with patient involvement; COLOSSUS, GLIOTRAIN and MEdEx Wellness.

The event wrapped up in time for participants to make their way to the Devlin pitch for the survivorship lap of the 2018 Relay for Life UCD in conjunction with Aoife Gordon and the student organising committee. The initiative is supported by the UCD Wellcome ISSF and the Mater Foundation.