Corine Oggel, 2019 graduate, hydrogeologist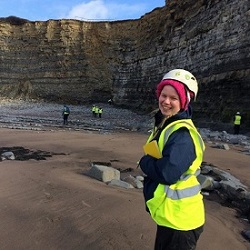 What is your current role and what does it involve?
After my degree in geology in UCD, I did a masters in hydrogeology in Birmingham. Since September 2020, I am working with an environmental consultancy based in Co. Carlow, in Ireland. My job involves doing groundwater risk assessments, environmental impact reports, and also pumping tests analysis, aquifer analysis, and nitrate loading assessments. I get to do both report writing and fieldwork, collecting samples and investigating different sites. I really enjoy it.
What's the thing you enjoy most about your current work?
I like seeing the application of it. I like getting to use the theory I have been learning and also apply it when I send out reports to people about their groundwater. Nitrate pollution is particularly interesting to me: assessing the pollution or contamination potential from nitrate and then figuring out how to remedy or mitigate it.
How do you use what you've learned in your degree in your present job?
I use my degree in ways that I didn't expect. Being able to work with cross sections and figure out how things work in 3D is so much more important than I realized when I was a student. Understanding the different ways in which rock formations were formed and how they relate to each other, as well as thinking in geological timescales, is very important and useful.
What led you to study geology?
I came into science because it was so broad and there were so many options to choose from. In geology, I took all the field modules that I could and learned so much from them. I also took a module on how geology relates to the UN Sustainable Development Goals. I really enjoyed that - it was a really cool way of seeing how applicable geology is to everything. I chose to specialize in geology because it incorporated so many disciplines I was interested in. There was a bit of chemistry, a bit of biology, but also physics and maths. It was so broad. I loved the fieldtrips, even the day trips, because you got to actually see what you were learning.
How did you find UCD and living in Dublin?
I really enjoyed UCD. I think it was a great college. There were a lot of opportunities to do things and get involved and to meet people. The science course is kind of overwhelming at the start because there are so many people, and nobody's really going to be in all of their classes so there are a lot of people but there are also a lot of opportunities. I think it was a great university. I honestly feel like I got a great experience from it.
What led you to a masters in hydrogeology?
It was the variety that hydrogeology offers, since it incorporates the mathematical and chemical aspects of geology, as well as computer modeling. I really enjoy that. I also appreciate the applicability of hydrogeology - tackling very important current issues.
Is there any advice you would give to a student considering geology?
I would probably encourage them to take the first-year fieldwork module. I think that really showed me what geology actually was about. And, if at all possible, I would encourage them to take a chemistry module, because I feel like chemistry came into geology more than I realised.
Is there anything else that in terms of life in UCD
University life can seem daunting, but I'm definitely not the most outgoing person and I still managed to put myself out there and try different things. You get so much more out of college life if you try to get involved a little with societies and activities. For example, I joined the Relay for Life charity fundraiser for the Irish Cancer Society each year, and it's one of the best memories that I have from UCD.
What do you like to do outside of work?
Running, as it's one of the only things I can still do due to COVID-19! I also like swimming and have taken up painting lately.