Digital Platform for Contemporary Irish Writing
Monday, 4 July, 2016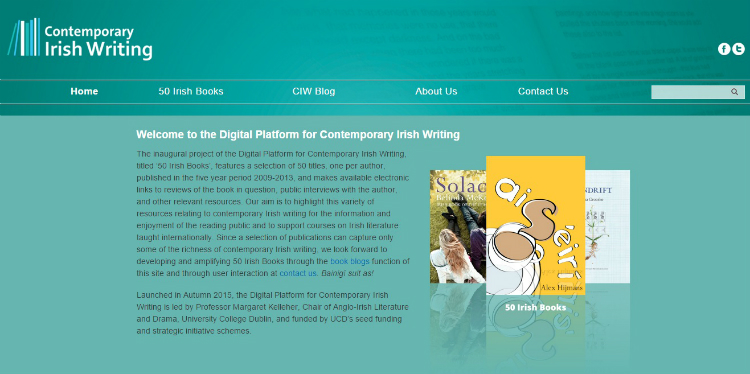 www.contemporaryirishwriting.ie
Launched in Autumn 2015, the Digital Platform for Contemporary Irish Writing is led by Professor Margaret Kelleher, Chair of Anglo-Irish Literature and Drama, University College Dublin, and funded by UCD's seed funding and strategic initiative schemes.
The Digital Platform for Contemporary Irish Writing is designed to meet the challenges particular to research and teaching in contemporary writing, such as:
The lack of resources and the delay in relation to availability of critical commentaries and contextual information.
The ephemerality and the difficulty of access to some source material, especially for international readers.
The difficulty and challenges in adjudicating the quality and nature of source materials.
Key objectives for the project include:
To highlight and disseminate existing resources in the field.
To provide a forum for identifying lacunae and needed resources with respect to research and teaching in contemporary literature.
To provide a means of capturing and recording the dynamism of contemporary conversations regarding Irish writing.
To pursue a cultural ambassadorial role for contemporary Irish writers internationally.
To support the creation of new resources in collaboration with ICT colleagues and to support collaborative research questions such as the interoperability of digital media and the cultural impact of digital media.
Advisory Board:
International: Dr Beatriz Kopschitz Bastos, Dr Claire Bracken, Dr Susan Cahill, Dr Sonia Howell, Dr Eamonn Hughes, Dr Claire Lynch, Dr Nicholas Wolf.
UCD School of English, Drama and Film: Dr Lucy Collins, Professor Anne Fogarty, Dr Eamonn Jordan, Dr PJ Mathews, Professor Gerardine Meaney, Dr Emilie Pine, Dr Emma Radley. UCD Library: Ms Julia Barrett and Dr John Howard.
Postdoctoral Researchers:
Dr Karen Wade, Dr Catherine Smith, Dr Kenneth Keating.
Project Convenor:
Support and Development:
Mr Niall O'Leary (Digital Humanities Specialist); Mr John O'Brien (Head of Design, Vermillion Design); Research IT, University College Dublin.