Dr Michael Tierney
President: 1947-1964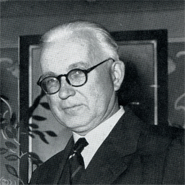 Shortly after Dr Michael Tierney commenced his term of office in 1947 the College made one of the most important decisions in its history – that UCD would move out of the centre of Dublin to a suburban site worthy of the national institution, which was playing a major role in the development of Irish society. By 1949 the first of many purchases at the Belfield site on Stillorgan Road was made. Joseph Downes, Professor of Architecture from 1943 to 1950, drew up plans for the development of the 123-acre site.
Dr Tierney's vision and tireless work came to fruition in September 1962 when the first sod was turned at the Belfield campus. The opening was an auspicious occasion, attended by President Eamon de Valera and the Archbishop of Dublin, Dr John Charles McQuaid.
Dr Tierney's links with UCD were long and distinguished. While studying at the College he won a National University travelling studentship which allowed him to study Classics at the Sorbonne, Athens and Berlin. In 1915 he was appointed Lecturer in Classics at UCD and he was promoted to the Professorship of Greek in 1923.
Nor were Dr Tierney's talents confined to academe. He was a member of Dáil Éireann from 1925 to 1932, of Seanad Éireann (1938-44), and of the Council of State (1940-44). He sat on three government commissions. Devoting himself more and more to the history, theory and practice of university education, he became a leading member of the UCD Governing Body and of the NUI Senate. One of his most renowned works, A Tribute to Newman: Essays on Aspects of his Life and Thought, reflected Dr Tierney's acute interest in all aspects of university education.
A formidable personality, Dr Tierney's presidency was marked by lively debate with members of the student body about the manner in which the College was governed. Despite these tensions and controversies, his achievements as President were widely recognised. One former student, Tom Donnelly, described Dr Tierney's appointment as 'the long-overdue triumph of dynamic liberalism in university education'.
During Dr Tierney's presidency UCD's student numbers nearly doubled to approximately 7,000, and the number of academic staff increased as new departments and specialisms were developed.
UCD President's Office
University College Dublin, Belfield, Dublin 4, Ireland.