Dr Jeremiah J. Hogan
President: 1964 – 1972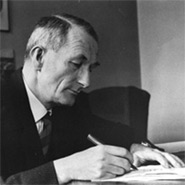 As Registrar of UCD from 1953 to 1964, Jeremiah Hogan had worked closely with the President, Dr Tierney, to secure government approval for the transfer of the College from Earlsfort Terrace. As president for the next eight years, Dr Hogan's chief task was to proceed with the development of the new campus at Belfield, on which the first buildings (for Physics and Chemistry) had just been completed. At Dr Hogan's retirement, another four buildings were complete: Arts/Commerce/Law, the Library (Stage I), the Administration and the Restaurant. The purchase of 28.4 acres of Roebuck Castle land had also been made.
An Arts graduate (BA in Modern Languages and Literature, 1922), J.J.Hogan was awarded the MA degree in English in 1923. Having won the Travelling Studentship of the University in Modern Languages, he went to Oxford and the University of Rome. He returned to UCD to join the staff of the Department of English and was appointed Professor of English in 1934. A gifted teacher, he published The English Language in Ireland and An Outline of English Philology. Dr Hogan was appointed Dean of the Faculty of Arts in 1947 before serving as Registrar, and finally as President.
The Hogan presidency was not concerned exclusively with the material construction of the Belfield campus. Staff welfare was also a priority, as illustrated by the introduction of a Statute to establish a number of Associate Professorships in all Faculties. Towards the end of his period of office he made provision for a considerable number of additional Statutory Lectureships. He also established new senior administrative grades.
UCD President's Office
University College Dublin, Belfield, Dublin 4, Ireland.