Prof Andrew Deeks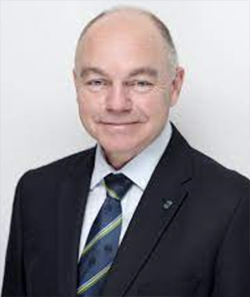 President: 2014 – 2022
Born in the UK in 1963, his family emigrated to Perth in Western Australia when he was six. He was educated at the University of Western Australia where he received a first class honours degree in civil engineering in 1984. After completing his Masters degree he worked in industry briefly before returning to UWA to pursue his PhD and an academic career.
He became Winthrop Professor, Civil and Resource Engineering, in 2004 and was Head of School from 2004 to 2009.
In 2009, Professor Deeks joined Durham University as Pro-Vice-Chancellor, Science. Science is one of three faculties at Durham University and includes the School of Biological & Biomedical Sciences, the Department of Chemistry, the Department of Earth Sciences, the School of Engineering & Computing Sciences, the Department of Mathematical Sciences, the Department of Physics, and the Department of Psychology. The Complete University Guide 2012 ranked Durham in fifth place out of 116 UK Higher Education institutions. Durham is ranked 80th overall in the Times Higher Education world university rankings (48th in the world for Physical Sciences) and 92nd in the QS top universities.
As Pro-Vice-Chancellor at Durham, Professor Deeks has led the development of the university's global presence strategy and extensive international partnerships, particularly in China and Brazil. In the past two years, as a result of these strategies, the number of undergraduate international students entering the Science Faculty at Durham University has increased by 140%.
Under Professor Deeks, Durham University has just opened the Institute of Advanced Research Computing (iARC). Durham University has internationally leading research in computational science and engineering and the focus of the new institute is on providing computer-supported modelling and simulation as a third pillar of discovery, alongside theory and experimentation, across all domains of science as well as in social science and the arts and humanities.
Prior to joining Durham University, Professor Deeks was Head of School, Civil & Resource Engineering, University of Western Australia, Perth. He joined the staff of UWA in 1988 and completed his PhD thesis, entitled 'Numerical analysis of pile driving dynamics', in 1992. During his time at UWA, he was also a Hai Tian Scholar at Dalian University of Technology, China, and guest professor at the China Central South University, Changsha, and developed collaborative programmes with these two Chinese universities.
As Head of School, Professor Deeks created a new model for industry involvement in the school, significantly improved the student experience and doubled student numbers. His strong commitment to students is acknowledged in the number of prizes and awards he holds for teaching excellence and innovation in teaching.
Professor Deeks is a leading expert in computational mechanics; specifically in the scaled boundary finite element method, which is a semi-analytical approach for solving elastostatic, elastodynamic and allied problems in engineering. He is also highly respected for his research work in structural mechanics, structural dynamics and dynamic soil structure interaction.
Professor Deeks holds joint citizenship of the UK and Australia.
Education:
Doctor of Philosophy, University of Western Australia (UWA), 1992
Master of Engineering Science, UWA, 1987
Bachelor of Engineering, (1st class honours), UWA, 1984
Employment:
2009 – present Pro Vice-Chancellor (Science), Durham University
2004 – 2009 Head of School, Civil & Resource Engineering, UWA
2004 – 2009 Professor, Civil & Resource Engineering, UWA
2003 – 2004 Associate Professor, Civil & Resource Engineering, UWA
2002 – 2004 Deputy Head of School, Civil & Resource Engineering, UWA
1998 – 2003 Senior Lecturer, Civil & Resource Engineering, UWA
1992 – 1998 Lecturer, Civil Engineering, UWA
1988 – 1990 Senior Tutor, Civil Engineering, UWA
1987 Structural Engineer, Skeed Pty. Ltd
1985 Control Centre Engineer, Water Authority of WA
Other Appointments:
2008 – 2010 Hai Tian Scholar, Dalian University of Technology, China
2007 – 2009 Guest Professor, China Central South University
Professional Associations:
Fellow of the Institution of Engineers, Australia (FIEAust)
Chair of the UK Deans of Science
Publications
Total: 168, including
Books authored: 1
Books edited: 2
UCD President's Office
University College Dublin, Belfield, Dublin 4, Ireland.