Dr Thomas Murphy
President: 1972 – 1985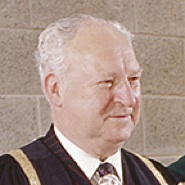 The first President to administer UCD from its Belfield campus, Thomas Murphy had previously been Registrar of the College for nearly eight years. A graduate of medicine who obtained the MB, BCh, BAO degrees with first class honours in 1939, he began his academic career at the college in 1955 as Professor of Social and Preventive Medicine. Prior to this appointment he worked as medical officer for Bord na Móna, as Assistant Medical Officer of Health in County Kildare, and in the Department of Health.
A gifted administrator with strong inter-personal skills, Dr Murphy earned respect as a stimulating teacher, a director of research, an efficient Head of Department and an engaged member of staff. He was elected Dean of the Faculty of Medicine in 1962. Two years later he was appointed Registrar, in which capacity he was directly responsible for setting up the Admissions Office and for the establishment of Staff-Student Committees. As President he became identified with increased democratisation of decision-making within the College and greater participation by the academic staff in its administration. These developments recalled Dr Murphy's activity as a founder member of the Academic Staff Association, which came into existence in 1960.
By the time he became President in July 1972 Dr Murphy had been a member of the Governing Body for thirteen years, and of the Finance Committee for nine years. He was equipped, therefore, with a detailed knowledge of the workings of the College and its personnel. As chairman of the principal statutory bodies in the College, he gained an insight into the concerns of the academic Departments, and became acquainted with the views of individual staff members.
Dr Murphy's desire to improve opportunities for academic staff promotion was a constant theme of his presidency, during which the number of full professors increased from 82 to 111. Approximately 120 additional statutory lectureships and some 33 additional associate professorships were created.
The development and expansion of the Belfield campus continued apace in the course of Dr Murphy's presidency. New buildings included those for the Faculty of General Agriculture, the Sports Centre, the Department of Computer Science, the Student Club, the University Industry Centre and the Library (Stage II). Site work was commenced for the new Engineering School. Property was purchased at Richview and land was acquired on the Roebuck boundary.
UCD President's Office
University College Dublin, Belfield, Dublin 4, Ireland.