What will I study?
In your first and second year, you will study a wide range of core business disciplines. This will give you a solid understanding of the foundations of business. You will explore modules through numerous different assessments and project methods, including: case studies, presentations, and business simulations.
On average, students in our full-time programmes have 18-22 hours of contact time per week, including lectures, tutorials and small group teaching. Outside of this, you will be expected to schedule time for study and class preparation as well as time to work on projects and assignments, either individually or in a group.
In your final year, you will have the option to focus your module choices on a specific business area or you may wish to continue studying modules from across the broad range of business disciplines.
With a wide range of electives, the BComm gives you the flexibility to develop your own personal niche of expertise with a degree of strong industry standing.
BComm students can choose from a catalogue of over 60 optional business modules, including Introduction to Cryptocurrencies, Sustainable Finance, Entrepreneurship in Action, Global Marketing, and much more.
| Business Areas | Business Areas |
| --- | --- |
| Accountancy | Information Systems |
| Banking and Finance | Management |
| Human Resources | Marketing |
Curriculum Overview
Please note that the below is subject to change.
Semester 1

Semester 2

(Optional Exchange)

+1 Business option module

(samples below)
For a full list of Business Option Modules currently available click here.
The purpose of the B.Comm programme at UCD is to develop commercially astute graduates with a global mind-set that will make a significant contribution to business and broader society. We aim to develop graduates who will demonstrate critical awareness of business trends, issues, and developments; a strong analytical orientation towards decision-making and problem-solving; a deep-rooted ethical and societal awareness; a propensity for entrepreneurship and innovation; a capacity to communicate persuasively and professionally; and a life-long commitment to personal and professional excellence and development (Purpose). We aspire to produce graduates that, over the long-term, will assume leadership positions and will have a significant impact on the development of business, economic, and social life, both nationally and internationally (education and subject/discipline/professional values). The B.Comm curriculum is designed to develop future leaders through a rich variety of educational experiences and pedagogical innovations that focus on conceptual understanding ('episteme'), technical mastery ('techne'), and practical wisdom ('phronesis'). Additionally, our students have the opportunity to participate in a range of transformative educational experiences, including business internships, international exchange programmes, summer exchange programs, and case study competitions (the nature of the learning environment for students). The B.Comm programme emphasizes a rich variety of teaching and assessment methods, including lectures and tutorials, laboratories, case studies, essays, consulting reports, debates, presentations, group assignments, and simulations. Students are exposed to faculty with a range of different perspectives, experiences, and backgrounds (key approaches to teaching, learning and assessment).
]
| | |
| --- | --- |
| Programme Goals | Programme Learnings Outcomes |
| 1. Students will demonstrate a critical awareness of business issues, trends and developments. | 1a. Explain the systems of thought and theoretical underpinnings that have shaped the development of business and management practice. |
| | 1b. Evaluate the influence of economic, social, historical, and technological forces shaping business and management today. |
| | 1c. Critically appreciate the interplay and interdependencies of business functions, including accounting, finance, operations, information systems, management, marketing, and human resource management. |
| 2. Students will demonstrate a strong analytical orientation when engaging in decision-making and problem-solving. | 2a. Demonstrate critical thinking and independent reasoning skills in situations of decision-making and problem-solving, as supported by the appropriate use of analytical and quantitative techniques. |
| | 2b. Demonstrate and apply knowledge of appropriate methods, tools and techniques for identifying and resolving business problems. |
| | 2c. Utilize information technology to support and enhance business analysis and communication. |
| | 2d. Utilize accounting, economic and financial techniques to make informed business decisions. |
| | 2e. Utilize statistical, mathematical, and other analytical techniques to make informed business decisions. |
| 3. Students will demonstrate a critical appreciation of ethical and social issues. | 3a. Demonstrate an active awareness of ethical values and business issues concerning the advancement of the broader societal 'good'. |
| 4.Students will demonstrate a propensity for entrepreneurship and innovation. | 4a. Identify and apply the major steps in discovering, evaluating, and exploiting opportunities for new ventures and business enterprises. |
| 5. Students will demonstrate a capacity to communicate persuasively and professionally. | 5a. Communicate, in a professional and informed manner, appropriate business and management concepts, ideas, arguments, recommendations and solutions |
| 6. Students will demonstrate a commitment to personal and professional excellence and development. | 6a. Develop interpersonal and collaborative learning skills. |
| | 6b. Develop independent and lifelong learning skills. |
]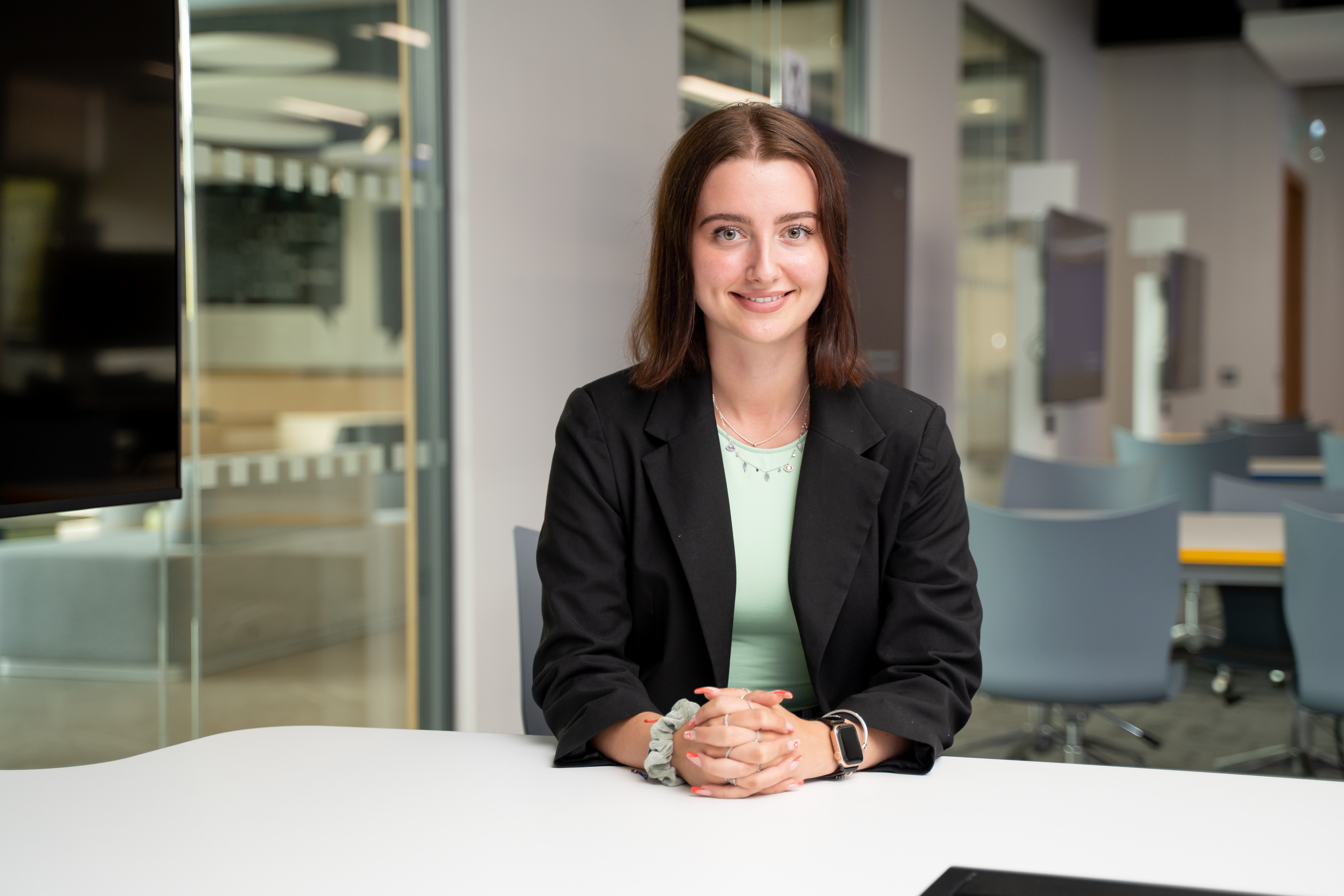 Nicole Matko
After attending the UCD Open Day, I knew UCD was where I wanted to pursue my further studies. The atmosphere on campus was buoyant and listening to academics speak about Commerce was eye opening. Hearing the vast array of opportunities for students is what made me apply. From the choice of completing a year-long paid internship, completing a semester abroad and being taught a wide array of modules by leading academics influenced my decision to place Commerce at the top of my CAO application. The UCD Quinn School has helped me work for a year in HR for a renowned construction company, be involved in the wider UCD community, meet amazing mentors and build the path towards my future career.
Nicole Matko, 2022 BComm graduate - current MSc Aviation Finance student at UCD Michael Smurfit Graduate Business School.