Conway Sphere Research News
Conway SPHERE Research News
AI_PREMie project awarded €500k under the Science Foundation Ireland Future Innovator Prize 'AI for Societal Good Challenge'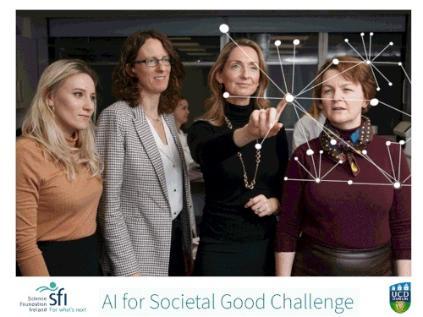 The AI_PREMie project, which uses artificial intelligence to help identify women with the pregnancy condition preeclampsia, received an award of €500k under the Science Foundation Ireland Future Innovator Prize 'AI for Societal Good Challenge', it was announced on the 29th of July. Preeclamptic toxaemia (PET) is a serious complication affecting one in every 10 pregnancies, and annually kills 50,000 mothers and 500,000 babies worldwide. read more here>>
The AI_PREMie project team led by Prof Maguire and including her UCD Conway SPHERE colleagues Prof Fionnuala Ní Áinle, Prof Mary Higgins and Dr Paulina Szklanna were also finalists in the National Analytics & AI Awards 2021, which took place virtually on June 17th. The project was shortlisted for the Social Impact Award which recognises a project, organisation or initiative that uses data analytics and/or AI for the benefit of society. This year AI_PREMie has also won the NovaUCD Invention of the Year Award 2021.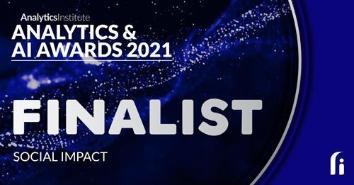 UCD Team Uses AI to Predict COVID-19 Severity
As Covid-19 remains a stubborn and persistent challenge, it is essential that continued research allows our clinicians to make the most informed decisions about patient treatment.
COVID-19 has a variety of different symptoms which can lead to progression of the disease ranging from mild to life-threatening cases requiring intensive care. The challenge for doctors is predicting the severity of COVID-19 in an individual patient at an early stage so that they can best manage their potential outcome.
Dr Paulina Szklanna, a Senior Researcher at UCD Conway SPHERE has published a decision tree modelled algorithm outlining how haematological parameters of Covid-19 patients can help predict severity of the disease. This collaborative work was completed in the Conway SPHERE research group led by Professor Patricia Maguire, UCD School of Biomolecular and Biomedical Science, Professor Fionnuala Ni Ainle, UCD School of Medicine, and Dr Barry Kevane, UCD School of Medicine has been published in Frontiers in Medicine.
This proof-of-concept publication is incredibly exciting as Covid-19 severity can be predicted with high sensitivity and specificity, leading to more personalised treatment and better patient outcomes.
Routine haematological parameters may be predictors of COVID-19 severity.
Paulina B. Szklanna, Haidar Altaie, Shane P. Comer, Sarah Cullivan, Sarah Kelliher, Luisa Weiss, John Curran, Emmet Dowling, Katherine M. O'Reilly, Aoife Cotter, Brian Marsh, Sean Gaine, Nick Power, Áine Lennon, Brian Mccullagh, Fionnuala Ni Ainle, Barry Kevane and Patricia B. Maguire. Front. Med., 16 July 2021 | https://doi.org/10.3389/fmed.2021.682843
__________________________________________________________________________________
Luisa Weiss, Conway Sphere PhD student led by Professor Patricia Maguire, UCD School of Biomolecular and Biomedical Science and Professor Fionnuala Ni Ainle, UCD School of Medicine, published a paper in Journal of Thrombosis and Haemostasis (June 2021) outlining key clinically relevant parameters of rivaroxaban compared to the rival drug warfarin. The well-established anticoagulant drug, rivaroxaban, expressed a reduced pro-inflammatory state and endothelium activation compared to warfarin treatments. These findings are of translational relevance towards characterizing the anti-inflammatory and cardiovascular-protective mechanisms associated with rivaroxaban therapy.
Non-valvular atrial fibrillation patients anticoagulated with rivaroxaban compared with warfarin exhibit reduced circulating extracellular vesicles with attenuated pro-inflammatory protein signatures.
Weiss L, Keaney J, Szklanna PB, Prendiville T, Uhrig W, Wynne K, Kelliher S, Ewins K, Comer SP, Egan K, O'Rourke E, Moran E, Petrov G, Patel A, Lennon Á, Blanco A, Kevane B, Murphy S, Ní Áinle F, Maguire PB. J Thromb Haemost. 2021 Jun 23. doi: 10.1111/jth.15434. Epub ahead of print. PMID: 34161660.
___________________________________________________________________________________
Pulmonary arterial hypertension is a rare and incurable disease that is characterized by progressive remodelling of the pulmonary vasculature and right heart failure if left untreated.
Dr Sarah Cullivan (Janssen Pharmaceuticals Newman Fellow in Pulmonary Hypertension and translational medicine) and colleagues in ConwaySPHERE explore the role of platelets, extracellular vesicles (EVs) and coagulation in the pathobiology of pulmonary arterial hypertension in their recent publication in Pulmonary Circulation (June 2021).
This review highlights the numerous quantitative and qualitative haematological derangements that have been described in pulmonary arterial hypertension and addresses some of the unanswered clinical questions in this devastating disease.
Current projects within the SPHERE group aim to contribute to our understanding of the role of platelets, EVs and coagulation parameters in pulmonary hypertension.
Sarah Cullivan Pulmonary arterial hypertension Publication:
Platelets, extracellular vesicles and coagulation in Pulmonary arterial hypertension.
Cullivan S, Murphy CA, Weiss L, Comer SP, Kevane B, McCullagh B, Maguire PB, Ní Ainle F, Gaine SP. Pulm Circ. 2021 Jun 4;11(3).
___________________________________________________________________________________
Dublin Climate Dialogues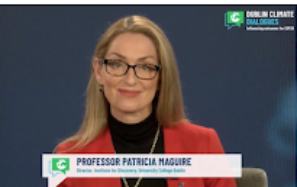 In this YouTube video Professor Patricia Maguire, Director of the UCD Institute for Discovery, engages with Mary Quaney, CEO of Mainstream Renewable Power, as part of the Dublin Climate Dialogues event in May. Mary gives an industry perspective on the biggest challenges in delivering on climate ambitions.
___________________________________________________________________________________