Summer researchers contributing to Vaccine and Infection research
Summer researchers contributing to Vaccine and Infection research
One of the highlights of our summer months over the past few years is the opportunity to host summer researchers in our research lab to work on Vaccine and Infection projects with us. This year we have the privilege of hosting Dorian Dederko, a Stage 3 Biochemistry and Molecular Biology student; Jolomi Ofioritse, an MSc Biotechnology student and Alex Chin, a Study Abroad student from Arcadia University, Pennsylvania, on the SCI30050 programme. It is especially nice this year as we were not able to host any stage 3 or US students last summer, due to the pandemic. This year the Conway Wing managers have made space available in one of the ground floor labs to accommodate all the summer researchers in a separate pod.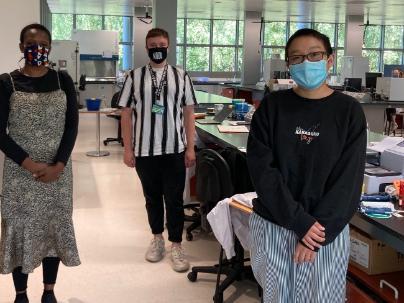 Dorian is funded by the Microbiology Society on a Harry Smith Vacation Studentship to study the links between hypoxic stress and the adaptation of Pseudomonas aeruginosa during the process of chronic infection in the cystic fibrosis lung. P. aeruginosa is one of a number of bacteria that causes chronic infections in people with cystic fibrosis and we are trying to understand how the low oxygen levels in the cystic fibrosis lung are helping these bacteria to thrive in that environment. "Undertaking a Microbiology Society funded summer project with Niamh Duggan and Dr. Siobhán McClean has given me insight into the group's work and sedimented my desire to remain in research following my degree. The quality of Science I'm seeing, both from the group and in the Conway Institute is unlike anything I have ever experienced" said Dorian when asked about his experience in the research lab.
Jolomi is investigating the impact of two different vaccine adjuvants on the antibody responses to our verotoxigenic E. coli (VTEC) vaccine candidates. VTEC infections are food-borne infections that can cause severe illness, particularly in children under 5 and in the elderly. She says "Doing a research project in the McClean lab at the Conway institute has been a lovely and wonderful experience for me… working behind the scene towards developing a vaccine for VTEC infection, practising modern biotechnological techniques, I believe the whole research environment is somewhere I would love to work in."
Alex is also working on the VTEC vaccine project to investigate serological responses to our vaccine candidates in colonised dairy cows and to evaluate the functions of the antibodies that are stimulated after immunisation. "It's been lovely and an absolute privilege to be able to work in a lab of this size and in person. My goal here was to gain valuable experience on procedures like ELISA and immunoblotting and learn from others' experiences in research. I haven't been disappointed yet, as I've already learned lots from several PhD students and my fellow summer researchers!" says Alex, a fourth year Honours Biology student from Arcadia University, who already has experience as a forensic science research assistant.
It is a pleasure to work with these three enthusiastic researchers who are making real contributions to our research projects.
Associate Professor Siobhán McClean, Head of Biochemistry, SBBS
July 2021