David Meade: Global Undergraduate Award
David Meade is the Regional Winner of the 2018 Global Undergraduate Awards in the Category Social Sciences: Sociology & Social Policy. David is also in the Highly Commended candidates list of the top 20 social policy students. The prize was received for his final year essay, which investigated the influence of family and childcare policy on the gender employment gap. He compared the employment gap of Ireland with Denmark and the EU average and how Ireland would have to provide more holistic and generous family policies to close the gender gap.
David responded with joy to the announcement: "I'm delighted to have my work recognised. As a mature student it is not always easy to return to college, but UCD provided a lot of support during all my studies. I also want to thank my supervisor, Dr. Stephan Köppe, for all his advice and assistance during my time at UCD."
Dr. Stephan Köppe is not surprised: "David was a curious student who always wanted to understand the details. I am pleased to see that the hard work of David has paid off. Moreover, we always aim to teach our students state-of-the-art research skills. It is great to see when students apply their knowledge and skills in comparative policy analysis."
David studied for the revised Bachelor of Social Science (BSocSc) Social Policy and Sociology degree and graduated with a First Class Honours this summer.
The award ceremony takes place in Dublin 12th-14th November, 2018 and the list of regional winners is available here.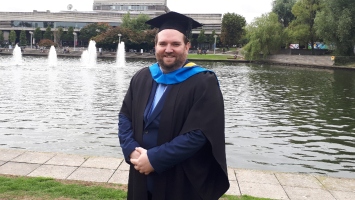 David Meade at his graduation ceremony
Contact the UCD School of Social Policy, Social Work and Social Justice
Hanna Sheehy-Skeffington Building, University College Dublin, Belfield, Dublin 4, Ireland. T:
+353 1 716 8198
| E:
sp-sw-sj@ucd.ie
|
Location Map