European Xenia Project Activity November 2022
University College Dublin held a successful in-person Xenia Erasmus+ Project transnational meeting in October, marking the 3rd in-person meeting throughout the 36 month timeline of the project. The meeting was hosted by the School of Social Policy, Social Work and Social Justice.This was also the penultimate meeting of the project which will close in January 2024. Due to the COVID-19 pandemic, all of the other meetings were held online.
The XENIA Erasmus+ Project is a 7 partner consortium spanning 5 European countries (Italy, Ireland, Slovenia, Greece and Spain). The project has been running since 2020 and will conclude once the remaining project outputs have been delivered and the Xenia Inclusiveness Index has been finalised. This innovative tool will be used to support European higher education institutions (HEIs) evaluate the actual level of inclusiveness of their university/campus environments for marginalised groups based on gender and sexual orientations and identifications.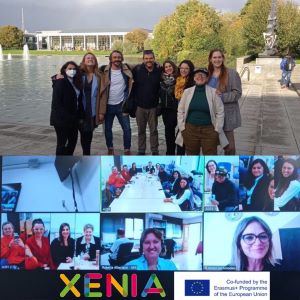 Contact the UCD School of Social Policy, Social Work and Social Justice
Hanna Sheehy-Skeffington Building, University College Dublin, Belfield, Dublin 4, Ireland. T:
+353 1 716 8198
| E:
sp-sw-sj@ucd.ie
|
Location Map