Get Involved in Sports Clubs
Make the most of your time in UCD!
Sports clubs are at the centre of student sport at the University. We hope you enjoy every minute of your time here. There is no better way to enjoy and experience student life than Getting Involved with your favourite sports club, or trying something new! Sports clubs provide a huge range of opportunities to train, play and compete in sport, no matter what your passion, ability or level. Although competition is a feature of many of the sports at UCD, clubs also cater for students who may not wish to compete but want to train in a particular sport for the health and fitness benefits.
We have made it easier for students to sign up and join a sports club on campus for 2023-24. Whether you want to try out a new sport or continue training in a sport you are already familiar with, UCD Sport invites you to get involved and have fun.
---
View our brand new Sports Guide for 2023-24
Download the PDF version of the Sports Guide:
3 ways you can join a UCD sports club

1. UCD Sports Expo: 18 - 21 September 2023
The Sports Expo will take place from 18 - 21 September in Hall B of the Sports Centre, and is open 10am-5pm each day. Anyone can come along and meet the clubs, find out some information and sign up.
The Expo will be a great event with music, games, entertainment, demos from our clubs and lots of freebies.
2. Virtual Sports Expo: From 01 September 2023
If you can't make it to the Sports Expo in person, you can always visit our Virtual Sports Expo where you can join a club anytime from 01 September online.
See our full list of sports club via the Club List page - There is information on all the clubs with links to their social media pages and contact details, don't be afraid to contact a club directly with any questions you may have.
3. My Clubs and Societies on InfoHub
Students can access their 'My Clubs and Societies' page through InfoHub in the Campus tab. Students must be logged into their UCD Connect account and will be able to see the full list of all Clubs and Societies available to them here in UCD.
Play
Getting involved in a sports club is an ideal way to keep fit, learn a new skill, meet people with similar interests, as well as provide a welcome break from academic life.
With nearly 50 sports clubs to choose from, ranging from team sports, adventure sports, water sports to martial arts, there is something for everyone. So make the most of your time in UCD and get involved.
You can join most sports clubs at any time throughout the year and the majority of the clubs organise new member and/or introductory training sessions.
Involvement in UCD sports clubs will ensure that your time at UCD is an enjoyable and rewarding experience.
Getting involved with a sport club is not limited to participating in the sport itself, UCD Sport clubs are predominantly student run and student led and therefore many volunteering opportunities exist in the form of committee positions, coaching and officiating.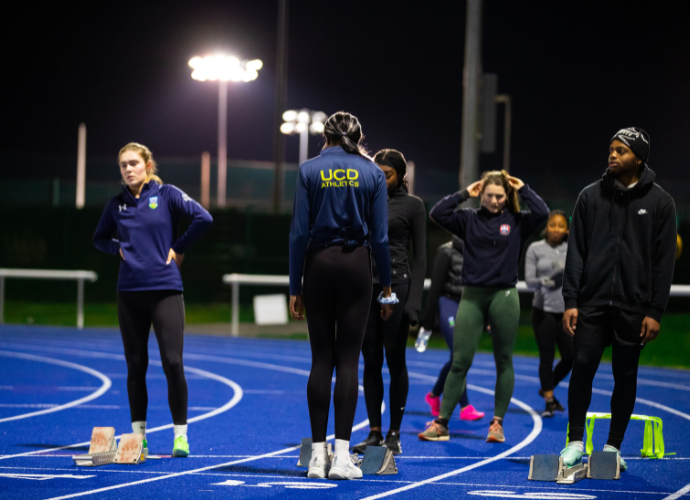 Coach
Coaching is integral to all UCD sports clubs. Expert coaching ensures the enjoyment and success of all members in the club activity. If you are interested in a getting involved in sport & physical activity then volunteering as a coach is a fun, social and attractive way to gain skills and valuable experience which are essential for both your personal development and ultimately building your CV. Students, staff and graduate members of clubs are actively encouraged to get involved in coaching their respective sport at UCD.
Visit the Coaching section for more information.
Only those individuals who currently hold a valid Safeguarding 1 certificate and are Garda Vetted by the AUC are permitted to coach, manage, lead activity or act as children's officers in UCD clubs.
Visit the Training and Development section for when safeguarding courses will be held.
The AUC and its members clubs can support you with unique coaching & volunteering opportunities while also assist with funding qualifications and training and development opportunities. A small number of UCD clubs also employ coaches to deliver their training. The recruitment, selection and management of all coaches (paid and voluntary) is the responsibility of each club.
Full details of the AUC's Coaching Policies are listed in the Club Operations Manual.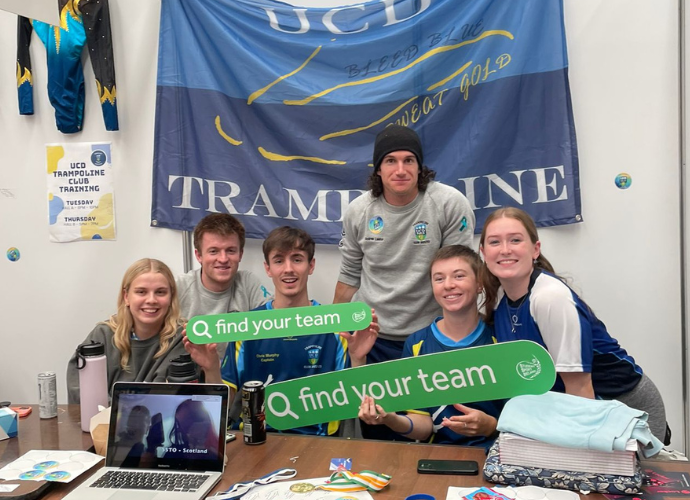 Club Committee Member
If you are interested in getting involved with the running of a sports club you can do so by becoming involved in the clubs respective committee.
Each club has an executive committee is made up of a wide variety of positions to suit all interests and abilities. The committee is democratically elected at each clubs Annual General Meeting. Committee positions include Children's Officer, Club Development Officer, PRO/Communications, Secretary, Junior Treasurer and more.
If you are interested in getting involved please contact the club directly, you can find all club contact details in the Club List section.