Dublin Chemistry - 3rd Year PhD Talks 2023
On Wednesday May 31st, UCD School of Chemistry hosted the Dublin Chemistry 3rd Year Talks with 37 PhD students from UCD, TCD School of Chemistry, and TUD School of Chemical and Biopharmaceutical Sciences each presenting their research in a 15 minute seminar.
Organised by Professor Declan Gilheany three parallel sessions ran throughout the day, with seminars grouped by type of chemistry. Further information is available in the Seminar programme or the Abstract book. Each session was chaired by an academic staff member from UCD, TCD or TUD and a panel of judges comprised of academic staff also attended each session to undertake an assessment of each.
We are very grateful to our long running sponsors Eli Lilly for their continued support for the Dublin Chemistry 3rd year talks. We were delighted that Dr. Michael Carroll, Senior Principal Scientist TS/MS Small Molecule from Eli Lilly Kinsale Limited, who gave a 3rd year talk during his own PhD studies with us, was able to be with us to present the prizes to the 6 winners.
Shekemi Denuga, Johnson Group, UCD "A Nanopore Sensor for the Detection of Sars-Cov2 Based on Ion Current Rectification"
Aoibheann O'Connor, Guiry Group, UCD "A New Paradigm for the Asymmetric Diels-Alder Reaction".
Eva Naughton, Sullivan Group, UCD "Development of Materials for Sustainable Artificial Photosynthesis".
Annael Sort-Montenegro, Florea Group, TCD "Movement Generation Under the Application of an Electric Field: Electrotaxis and Electro-actuation".
Alby Benny, Scanlan group, TCD "Thioaspartic Acid Mediated Methods for Peptide Ligation and Macrocyclisation".
Justynne Joy Fabian, Warren group, TUD "Surface Modification of Titanium Alloys for Biomedical Applications".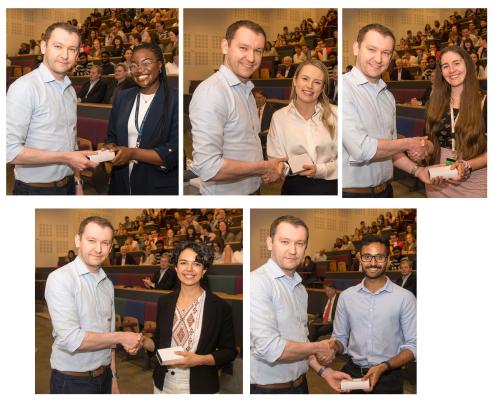 Dr Michael Carroll of Eli Lilly presented prizes to (clockwise from top left): Shekemi Denuga, Aoibheann O'Connor, Eva Naughton, Alby Benny, and Annael Sort-Montenegro. Our thanks to Vincent Hoban, UCD for the photographs.