Film Screening 'Lost in Lebanon'
On 14 November 2019, the Centre organised in collaboration with the Irish Syria Solidarity Movement the screening of 'Lost in Lebanon' by Georgia and Sophia Scott, at the UCD Sutherland School of Law. 'Lost in Lebanon' gains access to unknown stories in a region that is on the fringes of hell. Spending over a year in Lebanon, the Scott sisters tell the story behind the news reports and show the strange chaotic lives of the people living in the shadow of the Syrian war. The film was officially selected for numerous film festivals, including the HRW Film Festival New York 2017 and XIth International Human Rights Film Festival 2017.
"This is a moving, galvanising work that tackles this horrific humanitarian crisis with a fresh eye and ear." Leslie Felperin (The Guardian)
A large turn-out of students, staff, and external guests engaged in a lively discussion with Eileen Boyle of ISSM and Professor Vincent Durac of the School of International Relations and Political Science. about the plight of Syrian refugees in Beirut and other parts of Lebanon and the human consequences the war is having in terms of displaced populations. Eileen Boyle who recently visited Lebanon talked about her experience. Céline Dakik, Auditor of the UCD Arab Society and second year French Law student, gave her perspective as a Lebanese national.
The film is available to watch on Amazon Prime Video.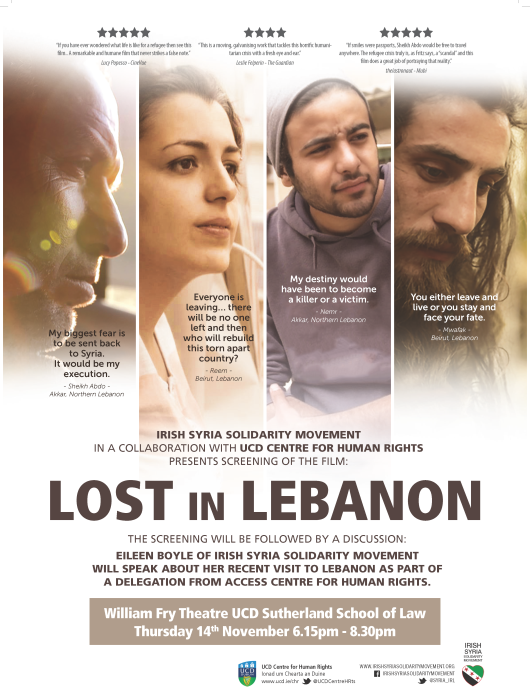 UCD Centre for Human Rights
Sutherland School of Law, University College Dublin, Belfield, Dublin 4, Ireland. E:
marieluce.paris@ucd.ie