Research
---
The quality of our research community and our distinctive interdisciplinary collaboration are used to address key human rights and societal challenges. Our members are engaged in independent and collaborative research projects on a wide range of themes including human rights theory and institutions, asylum and migration, non-discrimination and social inclusion, policing, privacy, freedom of religion, expression and association, social and economic rights and business and human rights.
Centre staff have also collaborated in the production of two leading texts on the ECHR and on human rights in Ireland respectively.
International Human Rights: Perspectives from Ireland
Edited by Centre Director, Suzanne Egan.
For further information on this publication, see here:
http://www.bloomsburyprofessional.com/uk/international-human-rights-perspectives-from-ireland-9781780439693/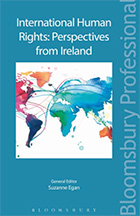 ---
Ireland and the European Convention on Human Rights: 60 Years and Beyond
Edited by Suzanne Egan, Liam Thornton and Judy Walsh.
For further information:
http://www.bloomsburyprofessional.com/ie/ireland-and-the-european-convention-on-human-rights-60-years-and-beyond-9781780434728/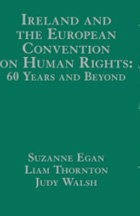 ---
Led by Dr. Graham Finlay of UCD SPIRe, members of the UCD Centre for human rights collaborated recently in the large scale EU-wide FP7 project on Fostering Human Rights among European Policies. UCD was one of the partner Universities in this wide-ranging project which focused on the contribution of the EU's internal and external policies to the promotion of human rights worldwide. You can read more about the project and its outputs at http://www.fp7-frame.eu/about-us/.
For further information on research outputs of Centre members, see here (Link to 'Publications). You can also view individual academic staff profiles and search by name for publications by particular Centre members on UCD's research repository (search by name).
---
UCD Centre for Human Rights
Sutherland School of Law, University College Dublin, Belfield, Dublin 4, Ireland. E:
marieluce.paris@ucd.ie