International Guest Speaker Seminar: Human Rights or Social Justice? by Professor Dominique Clément
On 20 February, the Centre welcomed Professor Dominique Clément from the University of Alberta, Canada. At the crossroads of politics, law and social practice, Prof Clément's presentation was about the intriguing paradox that whereas human rights have become an effective strategy for framing grievances, the increasing appropriation of rights-talk to frame a broader range of grievances is limiting attempts to successfully address systemic social problems. Clément argues that issues such as poverty or the environment should be framed as social justice rather than human rights. He explores how framing a grievance as a human right shapes the way people understand both the problem and the solution, and the consequences of framing social problems as human rights violations.
A large turn-out of masters and doctoral students, Centre members, Law School colleagues and external guests, engaged in a wide-ranging discussion about theoretical and practical aspects of the interaction between human rights litigation and social justice, including on the 'absolute character' of human rights, on the 'expansion' rather than 'inflation' of human rights, on whether human rights litigation should be seen as complementing rather than limiting efforts to discuss and address social grievances.
Dominique Clément is a Professor in the Department of Sociology at the University of Alberta. He is a member of the Royal Society of Canada's College of New Scholars. He has published extensively and is the author of Canada's Rights Revolution, Equality Deferred, Human Rights in Canada and Debating Rights Inflation. He is also the author of numerous articles on human rights, social movements, gender, labour, and foreign policy. Prof Clément has been a Visiting Scholar in Australia, Belgium, China, the United Kingdom and Ireland. He has consulted for the Canadian Human Rights Commission, Canadian Museum for Human Rights, and the Canadian Heritage Information Network. He is a current or former member of the Board of Directors for the Canadian Civil Liberties Association, Centre for Constitutional Studies, the Canadian Committee on Women's History, and the John Humphrey Centre for Peace and Human Rights among others. His website, HistoryOfRights.ca, serves as research and teaching portal on human rights law and social movements in Canada.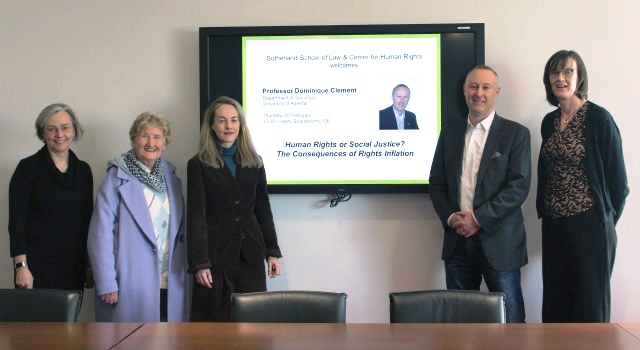 Pictured: Prof Imelda Maher, Dean of UCD Sutherland School of Law, Helen O'Neill, Professor Emeritus in Economics, Dr Marie-Luce Paris, Director of UCD Centre for Human Rights, Prof Dominique Clément, and Prof Suzanne Egan.
UCD Centre for Human Rights
Sutherland School of Law, University College Dublin, Belfield, Dublin 4, Ireland. E:
marieluce.paris@ucd.ie