UCD Centre for Human Rights co-sponsors annual Frontline Defenders Lecture
Tuesday, 21 February, 2017
The UCD Centre for Human Rights is delighted to co-sponsor the annual Frontline Defenders Lecture. This event was established in 2013 to provoke discussion and debate about the range of issues affecting human rights defenders in their work to bring about changes and build robust civil societies. The lecture is broadly accessible to a general audience with an interest in philosophy, law, human rights or politics.
The 2016 Annual lecture was delivered by Czech philosopher, Professor Jan Sokol, who was one of the first signatories of Charter 77, a petition drawn up and signed by a number of brave Czechoslovakian writers and intellectuals in 1977 which demanded that the Communist government of Czechoslovakia recognise some basic human rights.
In his lecture entitled "From Dictatorship to Democracy: The Role of Human Rights Defenders", Professor Sokol recounted his experience of the Czechoslovakian transition to democracy (1989 – 1990) and discussed the appropriateness and efficiency of a "dissident" position.
You can view a video of Professor Sokol's lecture here.
Further information on the annual lecture series is available here.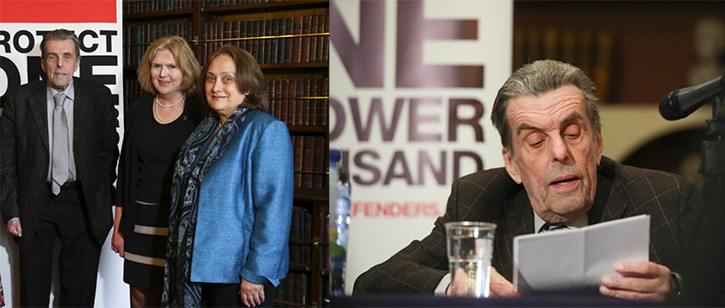 Pictured with Professor Sokol from left are Mary Lawlor (Founder and Executive Director, Frontline Defenders) and Professor Maria Baghramian (Professor of Philosophy, UCD).
UCD Centre for Human Rights
Sutherland School of Law, University College Dublin, Belfield, Dublin 4, Ireland. E:
marieluce.paris@ucd.ie