UCD Centre for Human Rights and the Human Rights Clinic at UCD Law School Host Conversation with Magdalene Survivors for Women's Day
Saturday, 1 July, 2017
On March 6th, in anticipation of International Women's Day, UCD Centre for Human Rights and the Human Rights Clinic at UCD Law School welcomed three survivors of Magdalene Laundries, Industrial Schools and Mother and Baby Homes to the School of Law, to engage in conversation and to honour their experiences and contributions to Irish society's ongoing reckoning with its legacy of discrimination and institutional abuse.
Introducing the women, Maeve O'Rourke (barrister and Human Rights Clinic instructor) noted that Gabrielle O'Gorman and Mary Merritt have been speaking in the media about the Magdalene Laundries and writing to elected representatives for decades, starting before the last Magdalene institution closed, in 1996, at Sean McDermott Street in Dublin. Maeve noted that the theme of this year's International Women's Day, 'Be Bold For Change', was a perfect description of the message that these women would impart to the students present. Mary Merritt (pictured), aged 85, urged the students to use their education to ensure that nothing similar is ever allowed to happen in Ireland again.
Suzanne Egan, Director of the UCD Centre for Human Rights, thanked the women on behalf of the Centre and the Law School for sharing their experiences with the students and for inspiring them to use their knowledge of human rights to tackle injustice wherever they see it in their own lives.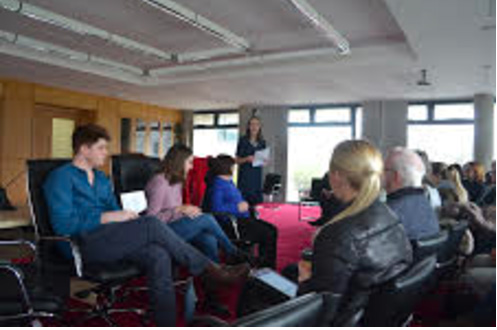 L-R: Rory Geoghegan, Julia Canney, Mary Merritt and Maeve O'Rourke
‌
L-R: Julia Canney of the Human Rights Clinic with Mary Merritt
UCD Centre for Human Rights
Sutherland School of Law, University College Dublin, Belfield, Dublin 4, Ireland. E:
marieluce.paris@ucd.ie