Dr. Fiona McGaughey (University of Western Australia) presents on "The Importance of NGOs in the UN Human Rights System".
Tuesday, 12 June, 2018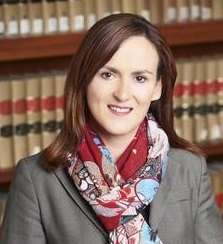 The UCD Centre for Human Rights is delighted to invite you to a seminar by Dr. Fiona McGaughey of the Law School at University of Western Australia on "The Importance of NGOs in the UN Human Rights System".
The seminar will take place on Tuesday 26th June at 1.00pm in Room L011 CLEC Boardroom at the Sutherland School of Law, Belfield, UCD.
Dr. Fiona McGaughey is a Lecturer at the School of Law, University of Western Australia.
Fiona initially worked in the private sector as a management consultant, before moving to semi-state and not-for-profit research and policy roles, which she did for over ten years in Australia and Ireland. She has predominantly worked in the areas of disability and racial equality. During this time she held a number of positions including membership of Government steering and advisory groups and voluntary Board memberships.
She was the Irish National Focal Point for the European Fundamental Rights Agency from 2005-2008 and previously taught on the Masters programme at the Centre for Human Rights Education, Curtin University. Having completed her doctoral thesis on the role of NGOs in monitoring international human rights law at UWA, Fiona has published extensively on this subject in leading international human rights journals. Her full profile can be found here.
UCD Centre for Human Rights
Sutherland School of Law, University College Dublin, Belfield, Dublin 4, Ireland. E:
marieluce.paris@ucd.ie