AI_PREMie recognised in UCD Research Impact Competition
Conway Fellows, Professors Patricia Maguire and Fionnuala Ní Áinle are announced as runners-up of the 2021 UCD Research Impact Case Study Competition for their case study entitled 'AI_PREMie: saving lives of mothers and babies using AI'.
The AI_PREMie team within UCD Conway SPHERE research group also includes Professor Mary Higgins, UCD School of Medicine, and Dr Paulina Szklanna, UCD School of Biomolecular and Biomedical Science.
UCD Vice-President for Research, Innovation and Impact Professor Orla Feely announced the winner and runners-up of the annual competition that encourages researchers of all disciplines to write a case study that tells the story of how their work has made a positive difference.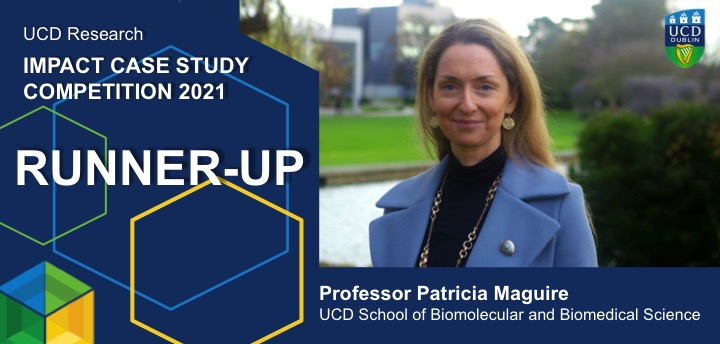 Preeclampsia is a serious pregnancy complication typically characterised by the development of high blood pressure and protein in the urine, and it affects one in every 10 pregnancies. Every year it claims the lives of 50,000 mothers and 500,000 babies, making it one of the world's deadliest pregnancy complications.

Diagnosis remains a serious challenge, and pre-term delivery of the baby is the only cure and the safest option for the mother. Therefore, an additional 5 million babies are born prematurely each year – sometimes very prematurely – which poses its own risks for the survival chances and long-term health of the child. Accurate risk stratification, where patients are assigned health risk statuses to help inform care, is urgently required to reduce these enormous competing risks.

Professor Maguire and her team have drawn upon cutting-edge biomedical, clinical and machine-learning knowhow to develop a prototype risk stratification tool, AI_PREMie, for preeclampsia. Their solution will be able to assist clinical decision making in real-time, hopefully enabling more accurate diagnosis and personalised treatment that will save lives.

Professor Feely commented: "I am always impressed with the quality of the applications we receive and this year was no exception. As chair of the judging panel, it is a great pleasure to learn more about the many ways UCD's researchers strive to make the world a better place.

"Among this year's finalists we have researchers helping to tackle the ongoing pandemic, protect the environment, enrich people's lives, influence policy, simulate sustainable economic growth, improve health and wellbeing, and inspire the next generation.

"I would like to congratulate all of our finalists. Their commitment to ensuring people benefit from their research is admirable and I am delighted to be able to recognise it through these awards."