Prof. Cormac Taylor receives RAMI Research Award 2021
Conway Fellow, Professor Cormac Taylor from UCD School of Medicine has received a Royal Academy of Medicine in Ireland (RAMI) Research Award 2021 at a gala event in the Robert Graves and Corrigan Halls of the Royal College of Physicians of Ireland, Kildare Street on Tuesday, 07 June 2022.

This award in the biomedical section acknowledges a translational research study in patients with inflammatory bowel disease (IBD), which was recently published in the scientific publication, The FASEB Journal.

Inflammatory bowel disease (ulcerative colitis and Crohn's disease) is a common and debilitating condition affecting 1-2% of people.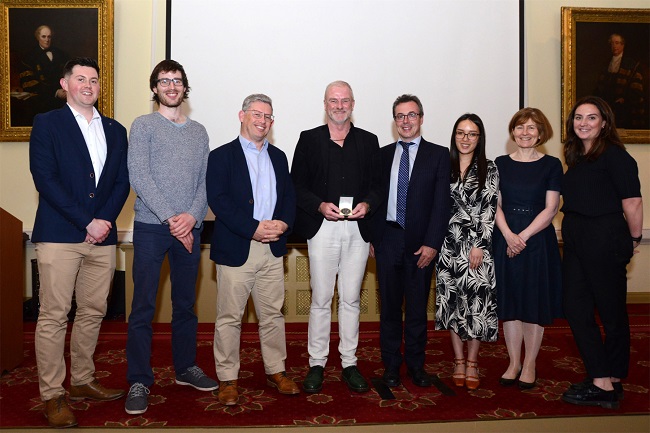 Professor Cormac Taylor pictured with colleagues at the RAMI awards 2021
The intestine in IBD patients is deprived of oxygen or hypoxic. This is a threat to the very survival of cells. In response to this threat, the immune system triggers a protective response although little is known about how this happens.

The Taylor group and their collaborators are trying to understand how oxygen levels in the intestine regulate this protective response. This will allow them to develop new therapeutic approaches to inflammatory bowel disease.

Clinical collaborators, Prof. Glen Doherty and Dr Cathy Rowan, St Vincent's University Hospital took biopsy samples from the intestines of IBD patients using endoscopy, which were then further investigated in bench research carried out by Dr Eric Brown and other team members in UCD Conway Institute.

The team focused on particular oxygen-sensors in cells lining the intestine of IBD patients and the sequence of events that trigger the protective immune response.

Commenting on the award, Professor Taylor said, "I am delighted to accept this RAMI research award in recognition of the fantastic work undertaken by my team, our clinical colleagues and the patients in St Vincent's University Hospital. We want to identify drugs that can interfere with cellular oxygen sensing to help treat and improve the quality of life in patients with this debilitating condition."

The research was funded through a grant from the European Union and the published article is available online:

Mucosal inflammation downregulates PHD1 expression promoting a barrier-protective HIF-1α response in ulcerative colitis patients Brown, Eric et al. FASEB J 2020 Mar;34(3):3732-3742. doi: 10.1096/fj.201902103R. Epub 2020 Jan 16.