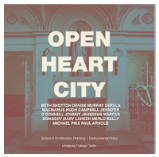 This team award is presented to the staff involved in Architectural Design VII - Open Hearts City. The focus of this architectural design studio is on a broad and expanding vision of the role of the architect in society, illustrating that the discipline of architecture fits within a broad framework of associated disciplines of the spatial environment. An architectural design studio relies on learning through doing within the context of a project; in this case the project focused on the former Convent and Magdalene Laundry in Sean Mac Dermott Street and the surrounding area of the northeast inner city of Dublin. Particular emphasis was placed on facilitating students to understand this complex piece of city and its difficult history, and to achieve this, support was sought from other disciplines from within and outside the university. The team that came together have exceptional and diverse skills which were made available to students in innovative ways. These skills supported high quality learning by employing the practical arts of drawing, model making and engaging with communities, to unlock the potential for learning in real life contexts.
The 7-week study culminated in a presentation of students' work to all teaching contributors, the local community and QUB students who were also working on the site. The students' work was disseminated online and through published articles.
The members of the team:
Dr Mary Laheen, Module Coordinator; Professor Hugh Campbell; Mr Michael Pike; Mr Marcus Donaghy; Mr Paul Arnold; Ms Merlo Kelly; Ms Denise Murray; Dr Dearbhla MacManus; Ms Jennifer O'Donnell; Mr Jonathan Janssens; Dr Elizabeth Shotton.