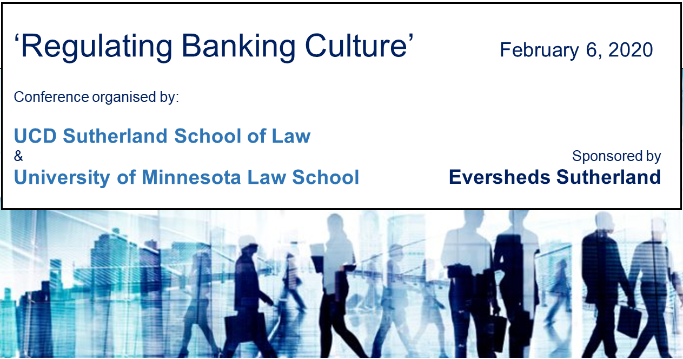 'Regulating Bank Culture': 6 February 2020
The Sutherland School of Law at UCD will host a conference on 6 February 2020 on the subject "Regulating Bank Culture". The conference which is sponsored by Eversheds Sutherland will highlight domestic and international experiences and research from the practising, regulatory and academic communities. In particular, the conference will explore issues related to the following themes: senior executive accountability; diversity and inclusion; board dynamics; promoting trust; and constructive dissent.
The Conference has been organised by Dr Joe McGrath of UCD Sutherland School of Law in co-operation with Professor Claire Hill of the University of Minnesota.
There is no charge to attend but due to limited spaces it is essential to pre-register. Please email aoife.ryan@ucd.ie to secure your place. Early registration is advised. For a programme click here.
Keynote Speaker: Mr Justice John Hedigan
Chair of the Irish Banking Culture Board
Speakers:
Mike Held, General Counsel, Federal Reserve Bank of New York
Tom Noone, Counsel, Federal Reserve Bank of New York
Niel Willardson, General Counsel, Federal Reserve Bank of Minneapolis
Seana Cunningham, Director of Enforcement, Central Bank of Ireland
Ger Deering, Financial Services and Pensions Ombudsman
John Breslin, Practising Barrister
Professor Tamas David-Barrett, University of Oxford
Professor Claire Hill, University of Minnesota
Professor Blanaid Clarke, Trinity College Dublin
Joe McGrath, University College Dublin
Mary O'Dea, Chief Executive, Institute of Banking
Ciaran Walker, Eversheds Sutherland, Dublin
Marion Kelly, Acting CEO, Irish Banking Culture Board
Peter Roebben, CEO, KBC Ireland
Jeremy Masding, CEO, PTSB
Date: Thursday, 6th February 2020
Time: 8.30am - 2.15pm
Register: Email aoife.ryan@ucd.ie (01 716 4106).
Please note that pre-registration is required due to capacity limitations. Early booking is advised.
Refreshments will be served.
IMPORTANT NOTE RE PARKING:
This event takes place during the academic term thus there will be very limited parking available on campus (this includes paid parking). Attendees are strongly advised to travel by public transport or taxi to UCD. The following bus routes serve the UCD campus (with varying frequency - see Dublin Bus for timetables): 7B, 7D, 11, 17, 25X, 27X, 32X, 39A, 41X, 46A, 47, 66X, 67X, 84X, 116, 142, 145
Note About Eversheds Sutherland, Sponsors of this Conference:
'Eversheds Sutherland is Ireland's only full service international law firm providing expert legal services to a predominantly business client base across a broad spectrum of areas. From their offices in Dublin and Belfast, they strive to work in a collaborative partnership with their clients to deliver premium legal advice on time, and within budget through their innovative project management structure which is unique among the legal profession. They work with some of Ireland's largest, most successful and progressive companies as well as many exciting and innovative smaller companies.
Being the Irish member of Eversheds Sutherland means they can provide a seamless service through their 69 offices and more than 200 relationship firms across Europe, the US, Asia, Africa and the Middle East. At local or international level, they aim to help all their clients in achieving their commercial objectives.'