University College Dublin Wins 2018 Knowledge Transfer Ireland Impact Award for Research Collaboration with ENBIO
Wednesday, 2 May, 2018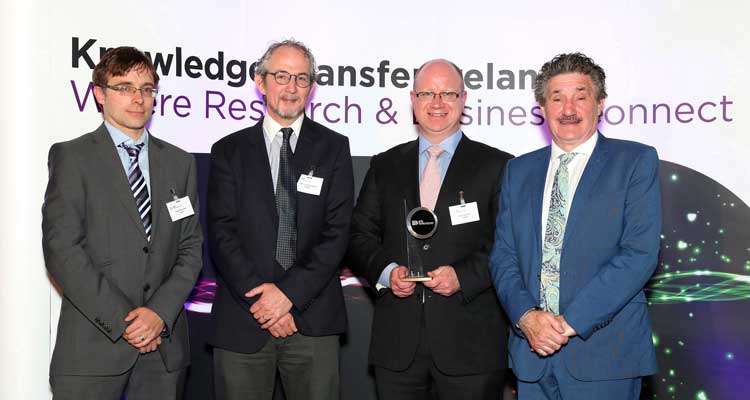 Dublin, Ireland, 27 April 2018, John Halligan TD, Minister of State for Training, Skills, Innovation, Research and Development, has presented University College Dublin (UCD) with a Knowledge Transfer Ireland (KTI) 2018 Impact Award, at an event held in the Royal Hospital Kilmainham, Dublin.
KTI is the national office that helps business to benefit from access to expertise and technology by making it simple to connect and engage with the research base in Ireland. For its annual awards, an international judging panel, comprised of experts in knowledge transfer and industry leaders, considered entries across six categories.
UCD was awarded the 'Collaborative Research Impact Award' for its research collaboration with ENBIO, an Irish space company.
This Award recognises and celebrates researchers in Irish publicly-funded research performing organisations (RPOs) who have developed successful collaborative research engagement with the business community. Through these endeavours researchers will have enhanced knowledge transfer and delivered impact for the businesses with whom they have worked and for their own organisation.
Deep space travel poses many significant environmental challenges to spacecraft. To minimise the risk, protective outer coatings are required. ENBIO had worked with the European Space Agency (ESA) to develop a black thermal control coating.
When ESA asked the company for a white version, ENBIO contacted Dr Kenneth Stanton, UCD School of Mechanical and Materials Engineering for help. This was the start of a long-term collaborative research project leading to the development and commercial delivery, in 2017, of SolarWhite, a thermo-optical coating developed to reflect radiation and protect space-crafts.
Tom Flanagan, UCD Director of Enterprise and Commercialisation said, "I am delighted that UCD has won the 2018 Knowledge Transfer Ireland Collaborative Research Impact Award as a result of the successful collaboration between Dr Ken Stanton and ENBIO. This collaboration has had a significant impact for the company as the resulting SolarWhite coating has now been rigorously tested for space-flight readiness, and is the only qualified white coating on the €1.7 billion Solar Orbiter mission."
He added, "It is great to see ENBIO, a graduate of NovaUCD, going from strength to strength, which is an indication of the quality and global potential of the companies who join our entrepreneurial community at UCD, and I wish John O'Donoghue and his team continuing success."
John O'Donoghue, CEO, ENBIO said,"Collaborative research with UCD not only led to a breakthrough technology but enabled us to double our workforce, and was transformative for the company's business model."
In 2017, ENBIO secured additional funding to further develop SolarWhite. It has doubled its workforce, located both in Dublin and Clonmel including locating new laboratories at UCD to maximise the benefits of the research and has benefitted from recruitment of graduates and postgraduates involved in the collaboration over the years.
Minister John Halligan TD said, "My Department, through Knowledge Transfer Ireland, has taken a pro-active approach to encouraging and supporting innovation from the research base in Ireland. We have a clear national research commercialisation policy and the tools to enable it including the national IP Protocol, the Technology Transfer Strengthening Initiative and the establishment of KTI. The results from our knowledge transfer system are encouraging and these awards showcase just some of the recent successes."
Dr Alison Campbell, Director of Knowledge Transfer Ireland, said, "The Impact Awards are an important event in Ireland's research and innovation calendar, recognising knowledge transfer successes and the people who make them happen. They are also an opportunity for us to demonstrate the wider impact of knowledge transfer. The projects celebrated at the awards are addressing societal challenges, as well as creating economic value."
The UCD Technology Transfer Office at NovaUCD supported ENBIO in its research collaborations at UCD, filing a patent application and subsequently licensing the patented technology to the company.
Further information on the other 5 KTI 2018 Impact Award winners is available via www.knowledgetransferireland.com/KTI%20Impact%20Awards/Finalists-Winners-2018/
ENDS
UCD School of Mechanical & Materials Engineering
UCD Engineering and Materials Science Centre University College Dublin Belfield, Dublin 4, Ireland. T:
+353 1 716 1884