Countdown to lift-off for UCD scientists making Ireland's first satellite
Tuesday, 25 September, 2018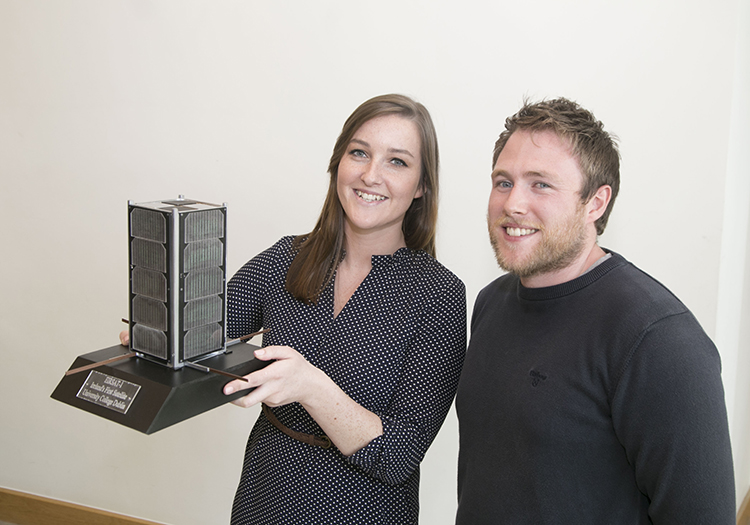 Maeve Doyle, PhD student, UCD School of physics research and development with Joe Thompson, PhD student, UCD school of mechanical and materials engineering
EIRSAT-1 will be the first ever satellite designed and developed by an Irish team.
A team of 16 UCD scientists are working on the prototype.
The nanosatellite will launch in 2020 and will carry three different scientific experiments on board.
Ireland's first ever satellite is one step closer to taking flight after University College Dublin scientists completed work on a prototype for the European Space Agency.
EIRSAT-1, a miniature satellite, has already passed the first phase of testing and now the team are working on finalising their design for launch.
Subject to further mission milestones, the satellite will be delivered to the ESA in mid-2020 with three scientific experiments on board.
The team at UCD includes 16 students from the schools of physics, mathematics and statistics, as well as various engineering disciplines.
With a budget of €1.5m, the project is being funded by the Irish Research Council, Department of Business, Enterprise and Innovation, Science Foundation Ireland and the ESA.
Research and Development Minister John Halligan said that the project was showcased Ireland's increasing science and technology capabilities.

"EIRSAT-1 provides the UCD student team with a great opportunity to develop skills in satellite development, a first in Irish space science education."
He added: "The development of these skills will have an impact beyond those directly participating in the project, including in the expanding space industry sector in Ireland."
Congratulations to all members of the @EIRSAT1 team, including 7 scholars funded by @IrishResearch and former awardees @SheilaMcBreen and @dj_mckeown, who will build Ireland's first satellite! What an exciting achievement! @ucddublin #LoveIrishResearch: https://t.co/bMouCaYQtj pic.twitter.com/bqN0SoHcn3

— IrishResearchCouncil (@IrishResearch) September 24, 2018
The UCD project was chosen to be part of the second cycle of ESA' Fly Your Satellite programme in May 2017.
The development programme aims to inspire the next generation of scientists and engineers with the chance to build CubeSats – nanosatellites that can fit in your hand but are fully operational – and send them into space.

Joe Thompson, a PhD student at the UCD School of Mechanical and Materials Engineering, said it was a dream come true to work on EIRSAT-1.

"Especially with amazing people from so many different disciplines, and to help make history with them by building and launching Ireland's first satellite."
We're delighted to have welcomed Minister John Halligan TD @EnterInnov to @ucdscience today to mark the success of the first stage of the EIRSAT-1 mission - the Critical Design Review. Now we move onto building and testing Ireland's first satellite! Thanks to all our supporters! pic.twitter.com/caj78E3OAV

— EIRSAT-1 (@EIRSAT1) September 24, 2018
The main experiment on-board EIRSAT-1 will be a gamma-ray detector, which will detect gamma-ray bursts, the most energetic explosions in the universe.
The second experiment is an in-flight demonstration of thermal control coatings developed by Irish company ENBIO, a graduate of NovaUCD.

The third experiment, called wave-based control, tests an UCD-developed algorithm to control the movement of the satellite.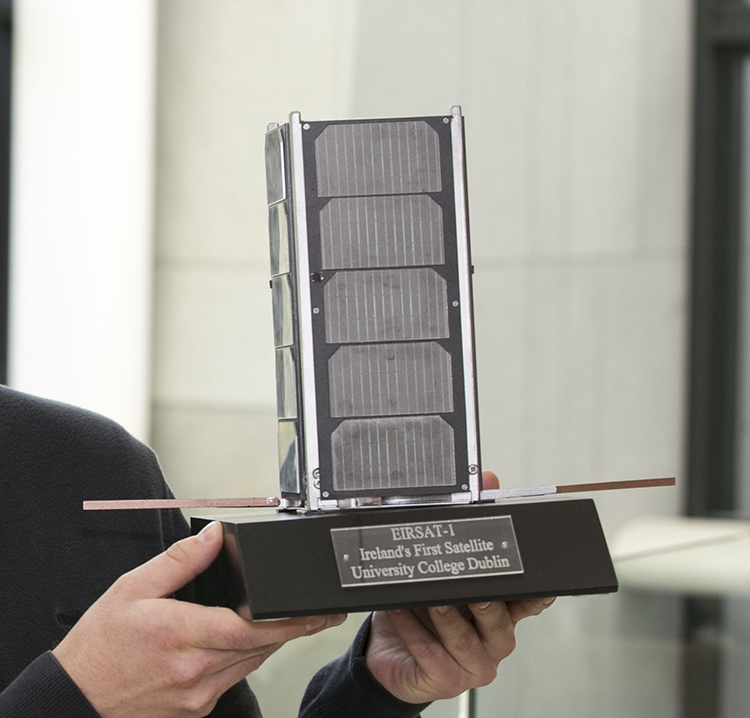 A model of the EIRSAT-1 nanosatellite being worked on by a UCD team
EIRSAT-1 Project Leader Professor Lorraine Hanlon, from the UCD School of Physics, said satellites like EIRSAT-1 were disrupting the traditional space sector globally, providing a fast and cost effective route to gaining spaceflight heritage.
Professor Orla Feely, UCD Vice-President for Research, Innovation and Impact added: "A key objective of the EIRSAT-1 mission is through its success to inspire the next generation of students to study STEM subjects."

"The skills base and the research and development agenda are closely aligned, and both need continuing investment by Government to ensure that Ireland can maximise its return from global opportunities in the space sector."
After launching, EIRSAT-1 is anticipated to remain in orbit for up to 12-months, during which time it will communicate data to Earth through a ground radio station located at mission control in the UCD School of Physics.

By: David Kearns, Digital Journalist / Media Officer, UCD University Relations
UCD School of Mechanical & Materials Engineering
UCD Engineering and Materials Science Centre University College Dublin Belfield, Dublin 4, Ireland. T:
+353 1 716 1884