Novel "Direct Part Marking" Technology Improves Bar Code "Readability" on Metal Surfaces
Wednesday, 17 April, 2019
The UCD School of Mechanical and Materials Engineering have patented* a novel technology for "direct part marking (DPM)". The technology produces 2D data matrices of excellent quality shown by verifications to the ISO29158 (AIM-DPM) standard where A-ratings were consistently achieved. This greatly facilitates ease of reading "in-process" and "in-the-field" over the product life cycle.
The high levels of quality are mainly due to engineering of the system optics so that the data matrix cells act as "micro-mirrors" reflecting incident light and producing a high contrast field in the test lighting conditions. This is shown below where our solution (left) is compared with a data matrix produced by a laser system.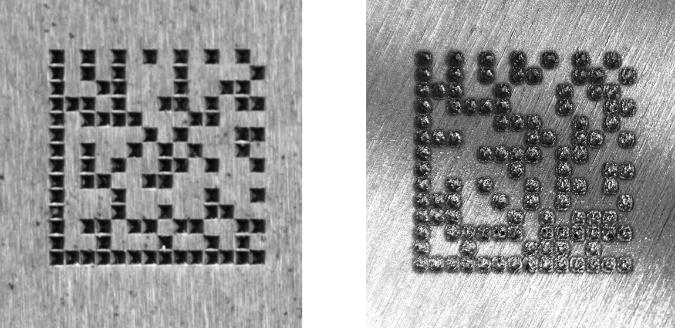 This DPM technology does not involve removal of material, local chemical or phase changes on the surface. It produces regular square cell shapes with clear demarcations from the global surface and a high quality (mirror) finish in the cells. It is inherently more robust and permanent than alternative solutions with ideal characteristics for in vivo medical device components. A wide range of data matrix sizes and scales can be accommodated. To date, it has been tested extensively on stainless steels, cobalt chromium alloys and titaniums (for orthopaedic implants).
The technology can be realised as a compact tool on a multiaxis machine platform designed to suit a range of component sizes and shapes. It has been demonstrated on a high precison 3 degree of freedom platform and is currently being commissioned on a five axis prototype for marking curved surfaces of orthopedic components. The technology can be developed, as required, to produce a 2D matrix with covert information and forensic features as an extreme anti-counterfeiting measure.
Contact: For more information, please contact:
Dr Eamonn Ahearne at +353 (0)1 716 1996 or e-mail eamonn.ahearne@ucd.ie
* United Kingdom Patent Application No 1904530.1
UCD School of Mechanical & Materials Engineering
UCD Engineering and Materials Science Centre University College Dublin Belfield, Dublin 4, Ireland. T:
+353 1 716 1884