UCD O'Brien Centre for Science - Phase III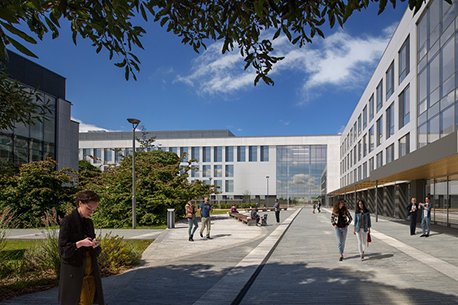 UCD O'Brien Centre for Science - Phase III
The Minister for Further and Higher Education, Research, Innovation and Science, Simon Harris TD, announced on 20 April 2023 that the Irish Government contributed funding towards Phase III of the UCD O'Brien Centre for Science to the amount of €25 million as part of Project Ireland 2040.
Professor Jeremy Simpson, College Principal and UCD Dean of Science said: "Securing this national funding brings UCD Science another significant step forward in our infrastructure development plans. The College of Science is extremely grateful to the Irish Government for this financial commitment, and in sharing our ambitions for the future of Science Education and Research in Ireland. Completion of the Science Phase III project will result in UCD having one of the largest and most diverse Science facilities in Europe."
News Updates
2023
21 August 2023
Update on Phase III by Professor Padraig Dunne: Phase III August 2023 Update
We are moving into the final stage of the decant to allow the start of construction for Phase III of the UCD O'Brien Centre for Science. The pace of fit out and movement has really picked up in the last few weeks, both towards Beech Hill and into Science South, East and Hub...
23 May 2023
Provisional Schedule for the Decant, Phase III (pdf) This is the provisional schedule for the Phase III, decant.
UCD College of Science
Room E1.09/E2.09 UCD O'Brien Centre for Science, University College Dublin, Belfield, Dublin 4, Ireland.
Location Map