UCD O'Brien Centre for Science - Phase III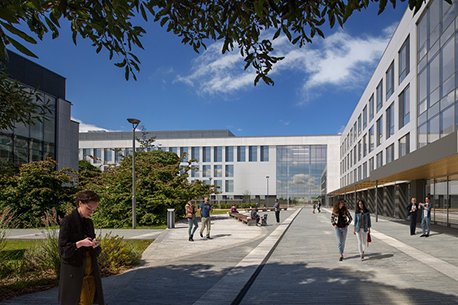 UCD O'Brien Centre for Science - Phase III
The Minister for Further and Higher Education, Research, Innovation and Science, Simon Harris TD, announced on 20 April 2023 that the Irish Government contributed funding towards Phase III of the UCD O'Brien Centre for Science to the amount of €25 million as part of Project Ireland 2040.
Professor Jeremy Simpson, College Principal and UCD Dean of Science said: "Securing this national funding brings UCD Science another significant step forward in our infrastructure development plans. The College of Science is extremely grateful to the Irish Government for this financial commitment, and in sharing our ambitions for the future of Science Education and Research in Ireland. Completion of the Science Phase III project will result in UCD having one of the largest and most diverse Science facilities in Europe."
News Updates
23 May 2023 Provisional Schedule for the Decant, Phase III (pdf)
This is the provisional schedule for the Phase III, decant.
20 April 2023 €25 million Irish Government funding towards UCD O'Brien Centre for Science, Phase III


The key national investment in scientific infrastructure is one of four Higher Education projects to receive Government approval under the second round of Higher Education Strategic Investment Fund (HESIF). The full funding for Phase III is a combination of European Investment Bank loan, University reserves, philanthropic donations, and this newly announced Government funding and when completed will allow for an extra 2,2000 students to be educate annually in the UCD O'Brien Centre for Science. Phase III will see the current Science building vacated during the summer, and construction will begin this autumn as planned. The project is part of UCD's €800m development plan to improve facilities across its campuses.




UCD College of Science
Room E1.09/E2.09 UCD O'Brien Centre for Science, University College Dublin, Belfield, Dublin 4, Ireland.
Location Map