UCD Sailing are the first Irish team to win BUSA Finals in over 50 years
20 April 2023
Report by UCD Sailing Captain, Jack Fahy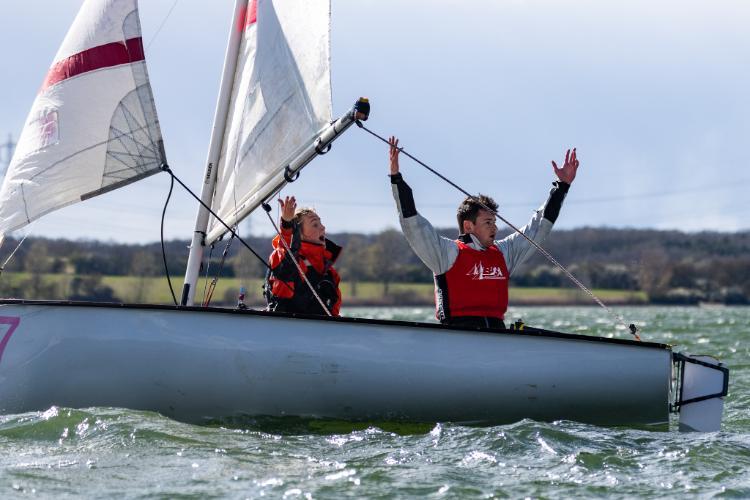 UCD Sailing has made history by winning the British Intervarsities Team Racing Championship, commonly known as BUSA Finals.
This achievement marks the first time since 1970 that an Irish team has won the title. Moreover, the team's triumph at BUSA Finals comes just a month after they made another groundbreaking win as the first Irish team to claim victory in the renowned Oxford Top Gun Invitational Regatta. As is custom the leading Irish team is invited to compete in the BUSA Finals, this year the event was hosted by Cambridge University and took place on Grafham Waters from the 12-14 of April. Having won most of the Irish University events this year along with Top Gun the UCD team were selected as the Irish team to take on BUSA.
The event started with a Swiss league (a rank adjusted round robin), and saw UCD win 12 from their 14 races, seeing them tied on first going into the knockout stages. This was already a huge improvement on last year's result when UCD narrowly missed out on the quarter finals on countback. The knockout stages on the final day brought conditions of 20+ knots, meaning reefed sails were required. Sailing was kept close to land where the wind was a shifty 10-25 knots, making for tricky sailing as sailors had to flick from team racing to fleet racing. This didn't stop UCD as they progressed through the quarter finals and semi finals, beating Bristol and Southampton respectively. They now faced Cambridge on home waters in a "first to three wins" final, this match up being a repeat of the Top Gun final. Race 3 saw Cambridge go 2-1 up in one of the UCD teams worst ever losses, seeing one boat capsized, the second OCS and the third 2 legs behind as a result of several penalties. The fact that UCD were able to win the next two races back-to-back, despite the incredibly difficult conditions both in terms of the weather and mentally overcoming the huge loss they were just dealt, to become the first Irish team to win BUSA since Trinity in 1970 speaks volumes about the level of camaraderie and teamwork that they have developed as a group.
Team member Liam Glynn said that "all our practice really paid off, knowing precisely our roles despite the best efforts from a brilliant Cambridge team. It is an amazing feeling to come home with this win."
Congrats to the entire team - Liam Glynn, Triona Hinkson, Jack Fahy (capt), Kathy Kelly, Tom Higgins and Cian Lynch.