John Kelly Awards 2023
The final of the John Kelly Awards for Universal Design in Tertiary Education was held on Tuesday 14 November. Hosted by UCD and AHEAD, the awards are prestigious celebration of Universal Design for Learning expertise, showcasing the breadth and range of innovative practice within the Irish Further Education & Training and Higher Education sectors.
We are thrilled to announce that Celia O'Shea, Kerry College and Jenny Moffett, RCSI are the winners of the Further Education & Training, and the Higher Education awards respectively.
This year the judging panel consisted of:
Professor Mustapha, Aabi,

Ibn Zohr University (Chair)
Katja Hakel, Norwegian University of Science and Technology (NTNU)
Phil Scarffe, De Montfort University
Ashiya Abdool Satar, University of South Africa
Congratulations to our six finalists who made terrific contributions on the day and made the judges' decision a difficult one.
Further Education & Training
Marie Collins, CDETB
Aoife Keaney, NLN
Geraldine Kyle, KCETB
Higher Education
Kate Dunne, ATU Connemara
Pauline Logue, ATU
Trish O'Connell, ATU Galway City
We were delighted to be joined by Dr Loui Lord Nelson who delivered a keynote on Sustaining Momentum in Universal Design, and joined a panel discussion with former John Kelly Award winners; Dr Niamh Plunkett and Dr Anita Byrne.
Our sincere thanks to all the finalists, the judges, Loui, Niamh and Anita, to all the applicants for the awards this year and to our supporters on the day and throughout the process. We could not have done it without you!
University for All Symposium 2023
The University for All Symposium took place on Wednesday 3 May 2023 in UCD's O'Brien Centre for Science. To mark the 10 year anniversary of the UCD Widening Participation Committee, this year's Symposium examined how the access and inclusion landscape has evolved over the last decade and explored what the future of inclusive education might look like. It was also an opportunity to celebrate UCD's successes in this area to date. Acting Registrar and Deputy President, Professor Barbara Dooley opened the proceedings. She reminded us that the student body of UCD had changed and diversified and would continue to do so. In ensuring that all students' needs are met, it was vital that access and inclusion be mainstreamed and baked in, not bolted on, to what the University does.
Dr Anna Kelly, Director of UCD Access & Lifelong Learning introduced a series of keynote presentations. Firstly, Professor Tom Collins gave an historical overview of inclusive education, charting the origins of universal and university education in Ireland both before and after independence. The paradigm shift has occurred in the last two decades with universities no longer being viewed as elitist institutions and being accessed by wider groups traditionally distanced from education. However, more work needs to be done to ensure these groups have equitable access to opportunity.
Amy Hassett, disability advocate and co-chairperson of Disabled Women Ireland (DWI) spoke to the topic of students as change makers. She reminded us of the importance of including student voice, particularly access students, in university decision making processes. In order to empower students, university leaders would be required to cede some power and to trust in students knowing what they want and need. In outlining what inclusive education would look like in the next 10 years, Jim Breslin, Secretary General of the Department of Further and Higher Education, Research, Innovation and Science, provided an overview of the HEA's National Access Plan as well as the Department's ambitions for equal access to education and an equitable student experience for all.
These keynote presentations provided context for the turn & talk discussion hosted by Professor John Brannigan, Chair of the UCD Widening Participation Committee. Symposium attendees were asked to reflect on and discuss three big questions: What are the key lessons from the past? What are the priorities for the next decade? What do we want to celebrate in 2032? Responses ranged from the reduction of reliance on the points system and broadening pathways to university to valuing the student voice both in teaching and policy making and embedding access and inclusion in the curriculum so that students with access backgrounds do not experience exclusion amongst peers. Professor Brannigan launched the Symposium's publication: "A Decade of Action shaping a University for All - Celebrating Ten Years of UCD Widening Participation". This publication chronicles how the Committee steered this institutional change and transformation over the last ten years, showcasing actions and approaches to embedding and mainstreaming student access, diversity, and inclusion featuring a range of institution wide examples of inclusive practice.
Finally the event concluded with a performance from students of the UCD Creative Futures Academy introduced by Professor PJ Mathews, UCD CFA Director. Faith Olasogba gave a powerful poetry reading exploring racism and discrimination and her experience of being black in modern Ireland. Jill Nellis presented a drama performance she had written and directed with fellow students. We would sincerely like to thank the CFA for partnering with University for All.
We would like to thank all those who attended the Symposium, our speakers, students and supporters. Till next year!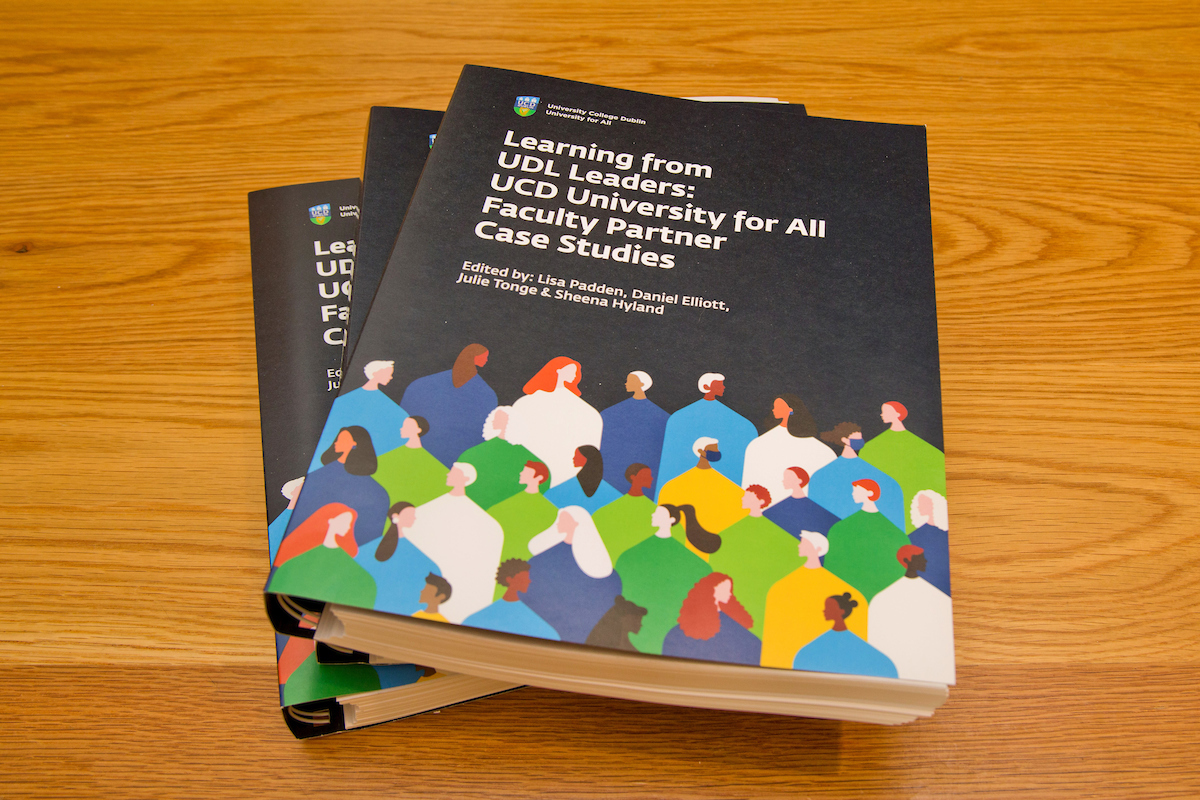 University for All Roadshow 2023
University for All Roadshow - Taking Inclusion on Tour in UCD
The University for All project team continues to support mainstreaming inclusion across UCD and ensure an inclusive experience for all students. For the second year running, the University for All Roadshow was organised from 13th-23rd February with the help of the Access Leaders and Widening Participation Leads. The Roadshow is to raise student awareness of University for All and their role within it.
The Roadshow's message is simple: UCD is open to all students, from all different backgrounds. Every student has earned their place to be here. With the University for All initiative we are rethinking the way we teach and deliver our learning, adopting more accessible technologies to support students, and designing a future campus that meets the needs of everyone.
For a fortnight each lunchtime, the Roadshow was set up in different buildings across campus, twelve locations in all. A flyer with key information about the initiative and positive actions that students can take to be more inclusive was handed out. University for All branded merchandise was available for students to take including notebooks, pens, pencils, pins, card holders, and donuts.
This year, we asked students the simple question: how can the University be more inclusive? Students provided hundreds of suggestions; some of these were about alterations to be made to the campus for physical accessibility, changes that lecturers could make to include more students in classes and assessments, better communication of and increased access to various supports, and increasing awareness around the different cultures that students are a part of.
The Roadshow provided a great opportunity for students to use their voice and to be an active member of the UCD community. WPC Representatives valued the opportunity to speak to students directly outside of the classroom.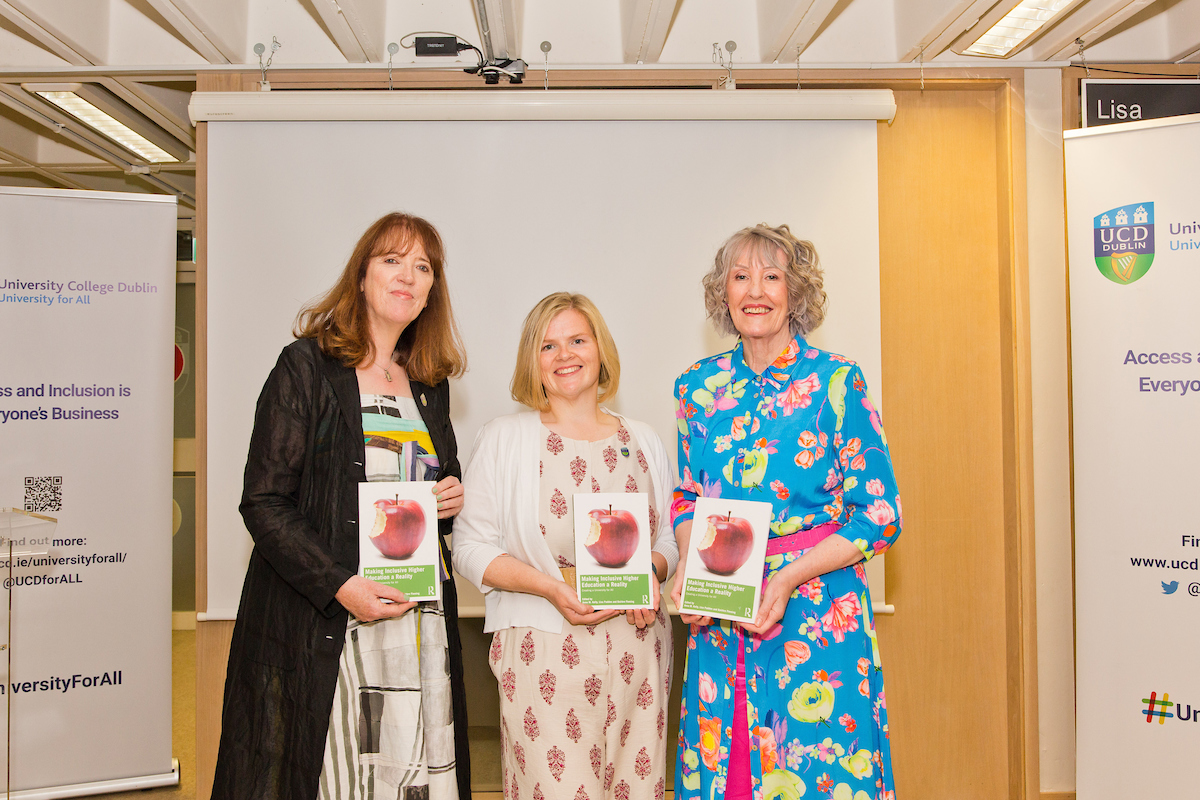 University for All Book Launch
This Routledge publication, "Making Inclusive Higher Education a Reality: Creating a University for ALL", edited by Anna M. Kelly, Lisa Padden and Bairbre Fleming, is based on research, evidence and practice in the field of access and inclusion in higher education. Uniquely, this book is the culmination of a decade-long journey to create a university for all.
Revealing higher education inclusive practice in action, this key title showcases a range of international case studies from a number of universities in order to highlight approaches to developing a culture of access and inclusion. It provides detailed information on how to transform institutional commitment to access and diversity into systemic change and the creation of a university for all.
Providing a whole-institution perspective of student access and inclusion, citing case studies from within UCD and sharing real world experience internationally, this book will appeal to academic leaders, faculty and professionals in higher education, as well as policy makers.
The University for All Team were delighted to launch the publication of their new book "Making Inclusive Higher Education a Reality: Creating a University for All" on Tuesday 30 May with friends, family, supporters and colleagues. Special thanks to Professor Barbara Dooley, Acting Registrar and Deputy President and alumna Joy-Tendai Kangere BL for launching the book.
Copies can be purchased via the Routledge website.
University for All Faculty Partnership Case Studies
UCD Access and Lifelong Learning (ALL) launched 'Learning from UDL Leaders: UCD University for All Faculty Partners', on the 1st of February 2023 in the UCD University Club. This publication is an output of the University for All Faculty Partnership Programme developed in collaboration with UCD Teaching & Learning and UCD Equality, Diversity and Inclusion and with oversight from the University's Widening Participation Committee. The fourth in a series of Universal Design for Learning case studies published by UCD, this volume is edited by Lisa Padden, Daniel Elliott, Julie Tonge and Sheena Hyland. The collection includes 26 case studies from across all of UCD's six Colleges.
At College level the Faculty Partners have been collaborating to integrate UDL systemically and have formed leadership teams to spread UDL throughout their disciplines. UCD's commitment to implementing Universal Design is clearly demonstrated in this publication.
Universal Design for learning (UDL) is a framework to assist with developing educational experiences which are inclusive of all students. By implementing more flexible teaching, assessment, and service delivery strategies to accommodate the variety of learners in classrooms, UDL seeks to embed equity throughout the student journey. The University for All initiative has paved the way for the implementation of UDL not just in UCD but nationally through a series of strategic collaborations.
The case studies are a valuable resource for colleagues in UCD and across the sector and add significantly to the body of work in this area. Each case study includes details on how UDL impacts students and also offers open education resources which can be adapted and used by others in their own practice.
"Learning from UDL Leaders: UCD University for All Faculty Partners', offers a timely, practical and a much-needed resource to support this vision and create a university for all. Written by 26 members of academic staff, appointed as UCD University for All Faculty Partners, this publication comprises easily transferable discipline-specific case studies that offer valuable insights and practical strategies to apply Universal Design across a wide range of subjects." -Professor Barbara Dooley, Acting Registrar, UCD.