Implementation of University for All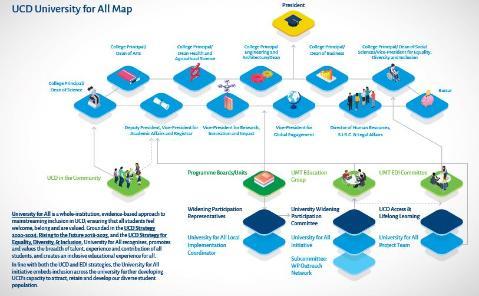 In April 2020 UCD's UMT Education Group approved the University for All Implementation Strategy. UCD's Widening Participation Representatatives are leading the implementation of University for All in their programmes/units. To understand the stucture of University for All implementation please download our University for All Infographic.
UCD staff can find published implementation plans on the Registrar's Intranet (log in required). The strategy for University for All implementation is based on the institutional 'pillars', as described in the Toolkit for Inclusive Higher Education Institutions (Kelly & Padden 2018), as follows:
F - Institutional Foundation and Scaffolding
1- Programme & Curriculum Design, Teaching & Learning
2 - Student Supports and Services
3 - Physical Campus and the Built Environment
4 - Information Technology Systems and Infrastructure
The implementation process is currently underway in two pillars in particular -
Programme & Curriculum Design, Teaching & Learning (P1)
Physical Campus and Built Environment (P3)
Show/hide content Open Close All
Arts & Humanities, Dr Mary Farrelly
Ahead of the systematic implementation of the University for All Toolkit for Inclusive Higher Education Institutions, the College of Arts and Humanities held an initial self-assessment workshop on December 10th at 11am - 1pm. As a springboard for reflection on attitudes and approaches to embedding inclusion across the College, participants completed a pre-workshop Google Form highlighting key sections of the toolkit for discussion. As well as recording initial ideas and generating data for discussion, the form identified key actions already taking place around the college including seminars on inclusive teaching and learning, the Thinking Creatively Visit Days, and UDL information sessions. The structure of the workshop followed that of the Toolkit for Inclusive Higher Education Institutions which focussed the discussion and helped participants identify key areas for future development. Dr Lisa Padden's presentations during the workshop introduced the Toolkit and key data from the University for All Student Inclusion Survey. This provided participants with important contextual information that will inform both individual actions on inclusion and broader approaches to implementing the Toolkit over the coming year. In order to make this information available to as many people as possible, these presentations have been edited into short videos and included in Dr Mary Farrelly's new Arts and Humanities Online Workbook for Implementing the Toolkit for Inclusive Higher Education Institutions.
Following on from this workshop, a very generous group of current students and Access Leaders from the College of Arts and Humanities volunteered their time to share student perspectives on inclusion within the College at a student panel event on the 14th of March. The event offered an opportunity for faculty and staff to ask for feedback and suggestions directly from students who, in their role as Access Leaders, have developed a deep understanding of what works and what remains to be developed in terms of inclusion in teaching, learning, and student supports. The Access Leaders responded to questions drawing from both personal experiences and discussions with fellow students. The discussion highlighted areas of online learning that have been particularly challenging for students as well as suggestions for small adjustments from staff that could mean big improvements in student wellbeing during a particularly challenging exam period. Communications to colleagues regarding the Q and A were made through Jean Keating, Director of the College of Arts and Humanities Office and further promoted by the College's VP for EDI, Dr Joseph Twist and EDI representatives in each school, ensuring that the event was very well attended by staff from all areas. The session offered much food for thought and reminded participants and attendees of the importance of keeping the student voice at the centre of our work.
Engineering, Associate Professor Mark Flanagan
A College-level workshop entitled "University for All: Inclusive Teaching Workshop for Engineering" was organised by Assoc. Prof. Mark Flanagan in January 2021. It consisted of two fully online sessions, on 14 January from 12:00-13:00 and on 15 January from 13:00-14:00. The planning process was simplified by the fact that this was the second such workshop for Engineering, another similar but in-person event having been organised in October 2019. This previous workshop had led to valuable discussions, but two improvements were planned for the second workshop, namely (i) that key stakeholders in Schools should be strongly encouraged to be present; and (ii) that a better attempt could be made to record the key outcomes of the proceedings in order to create actions. All communications to colleagues regarding the workshop were made through the Engineering and Architecture College Principal Prof. Aoife Ahern, who also ensured the availability of key stakeholders such as Heads of School, Heads of Teaching and Learning, Programme Directors, and the College's EDI representative. The Workshop consisted of 4 sessions of 1/2 hour each – Disability Awareness, Student Panel, Universal Design for Learning and the Toolkit for Inclusive Higher Education Institutions.
For the Toolkit session, a Google Form containing sample self-assessment questions from the Programme and Curriculum Design, Teaching & Learning Pillar was created based on a template kindly shared by Dr. Mary Farrelly (College of Arts and Humanities), and the session was based on joint discussion of, and individual completion of, this form. The online format worked well and allowed for the discussion of the Toolkit session to be captured via audio and video recording. The Google Form also allowed the capture of staff members' points in real time. It is also worth noting that Google Form submissions were almost all made from within the online Toolkit session (as opposed to afterwards). The Google Form was also emailed (by the College Principal) to all academic staff in the College after the workshop ended. The Workshop had 25 attendees on each day, and the discussions have led to actions which will form part of our College's Action Plan in this domain.
School of Public Health, Physiotherapy and Sports Science, Associate Professor Caitriona Cunningham
The University for All implementation team in the School of Public Health, Physiotherapy and Sports Science is led by Dr Caitriona Cunningham and includes key colleagues from the school: Dr Ross Neville, Associate Dean of Equality Diversity and Inclusion and Dr James Matthews, Associate Dean of Teaching & Learning. The implementation team developed a University for All workshop held on the 12th of March 2021 with the support of Dr Lisa Padden, Project Lead for University for All. The date was agreed to suit as many as possible and set well in advance, requiring registration. In preparation for the workshop the Head of School, Professor Catherine Blake, emailed all School staff, highlighting UCD's commitment to University for All and encouraging a high level of workshop participation. This was key to show senior buy in for the implementation - in total 39 staff members registered including a mix of academic (graduate students to Professor levels), clinical, administrative and support staff. In preparation for the workshop widening participation data were shared with colleagues at the School Teaching & Learning Committee meeting on the 4th of March. This included admissions, participation, outward mobility and graduate outcomes data relating specifically to the School's own programmes. The workshop on the 12th of March included a student panel, a presentation on the responses from students and staff in the School to the University for All Survey 2020. Next the Toolkit for Inclusive Higher Education Institutions was introduced. The implementation team decided to focus on 'Student Assessment practices' for their workshop. Six break groups were created in Zoom with facilitator guidance on breakout group activity.
Preprepared Google Sheets were utilised to capture examples of good practice as well as suggested actions, with outputs focused on four assessment-related statements chosen by the implementation team and mapped to current teaching and learning priorities in the School. Each breakout group spokesperson shared their outputs with all workshop participants on returning to the Zoom Main Room and discussion ensued. Having captured this information an action plan is being developed with a focus on what is achievable in the coming year. The next steps include a recommendation for academic Programme teams to incorporate suggestions into the curriculum planning process, reminding Module Coordinators to incorporate any possible changes for inclusion when the Curriculum Management System Opens. The School will also investigate workshops on the other Toolkit pillars and explore the possibility of working with other Schools in the College. The School also plans to host a Universal Design workshop and encourage faculty to take up the Digital Badge for Universal design for Teaching & Learning.
College of Science, Associate Professor Siobhán McClean
The College of Science University for All Implementation team is led by the Associate Dean for Widening participation, Assoc Prof Siobhán McClean with key colleagues in the College, Assoc Prof Antoinette Perry, VP for Equality Diversity and Inclusion; Assoc Prof James Sullivan, VP for Teaching and Learning and Dr Anthony Cronin, the Universal Design for Learning (UDL) Faculty Partner for Science. The implementation team organised a University for All self-assessment workshop with support from Dr Lisa Padden, Project Lead for University for All, which was held online on the morning of Thursday 17 June. There was excellent engagement with 53 colleagues across the College registering for the workshop. It opened with an Introduction to Diversity and a presentation on the College Widening participation data including admissions, retention and completions across the range of programmes in the College by Assoc Prof Siobhán McClean. Two of our exceptional Student Access Leaders shared their perspectives with us. They answered questions on topics such as what inclusive teaching means to them and shared examples of their own inclusive experiences as students. Among the inclusive practises that they identified were module coordinators interacting with students to identify the best time-zones for online exams; availability of recorded lectures to allow students to replay the lectures later; being facilitated to type exams in word documents rather than directly into Brightspace. Among the areas where the Access Leaders would like to see change was in the area of communication and an awareness that students can have caring responsibilities.
Dr Lisa Padden outlined the concept of Universal Teaching Design for Learning in Action, with very practical examples of how inclusive practise can be incorporated into teaching across the College of Science. This led nicely to the self-assessment workshop using the Toolkit for Inclusive Education. The participants discussed five key areas for future development in breakout groups. Topics for the self-assessment included the level of awareness of teaching staff in diversity and inclusion; variety of assessments available to students; information regarding accommodations and support being communicated to faculty; and accessibility of signage in the College of Science. Several examples of good practise in these areas were shared and actions to improve and implement best practices were discussed. During the Self-assessment workshop, key discussion points were recorded using Google sheets, which was invaluable and will inform an Action plan for the Implementation of University for All in the College of Science in the coming months. During one of the Self-assessment breakout group feedback sessions, the Educational Technologist for the College of Science, Cesar Scrochi, described the accessibility tools that are available on Brightspace. This led to an immediate outcome from the workshop with a series of three workshops being held in the first week of the Autumn trimester on Creating Accessible Content on Brightspace led by Cesar Scrochi and tailored for Schools across the College.
School of Nursing, Midwifery and Health Sciences, Dr Phil Halligan
The University for All (UfA) implementation workshop was guided by Dr Phil Halligan and supported by College Principal of Health & Agricultural Sciences, Professor Cecily Kelleher and the Dean and Head of School, Professor Fiona Timmins. In addition, other key staff were identified as partners in bringing about change and were strongly aligned to supporting the workshop: Dr Carmel Nolan, Associate Dean of Teaching & Learning, Prof Eilis McAuliffe, Associate Dean of NMHS Equality, Diversity and Inclusion and Dr Regina Joye, Widening Participation Outreach Network representative.
Thirty staff registered for the workshop which was held on Tuesday 22 June. Following presentation of the School Widening Participation data and student with disabilities' experiences, participants were divided into five breakout rooms with a facilitator joining one of the rooms. The self-assessment exercise assisted with identification of areas of good practice and areas which should be prioritised for immediate or short/long term action. As the Toolkit is a key building block in the University for All initiative, consideration was given to all of the pillars and finally, a selection of five key statements were considered for discussion at the workshop which focused of programme and curriculum design, staff development opportunities, institutional communication strategy, accessible teaching materials and student supports and services.
Following the workshop, an action plan was created which identified areas of good practice, how these could be further improved upon, and how to progress locally University for All within the school. This action plan was then sent to the College Principal of CHAS, Professor Kelleher and the Dean and Head of School, Professor Timmins for approval, to the University for All project team, and to the Governing Board in the NMHS. Plans are to reconvene another workshop with staff to progress it further.