Harvesting Knowledge from Big Data in Agriculture and Food
Tuesday, 8 November, 2016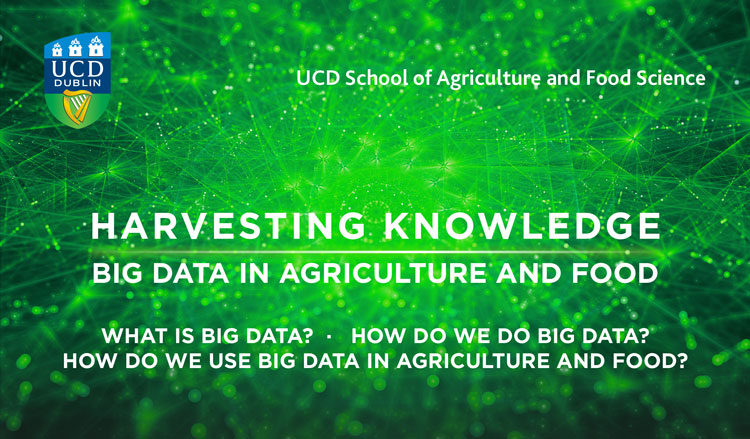 ‌
Increasingly powerful and rapid information networks, cloud computing and mobile technologies are revolutionising how businesses interact with each other and with their customers. In parallel to these developments, sensor arrays, predictive data analytics and modelling ('Big Data') have emerged as key tools for generating new knowledge to inform complex decision-making, planning and strategy formulation.
During the last five years 'Big Data' techniques have increasingly been applied to agriculture and food; a notable example is genome-enabled breeding in dairy and beef cattle production where Ireland is a world-leader. Predictive data analytics techniques are also being used across the whole food production chain from GPS-driven logistics and sensor technology in crop production to data mining of supermarket barcode data to better understanding consumer behaviour and diet.
The one-day Symposium, which takes place on Tuesday 13th December from 09:00 – 16:00 at the UCD O'Brien Centre for Science, is targeted towards agriculture and food industry professionals and academics who wish to learn more about how predictive data analytics is impacting agriculture and food industries in Ireland and beyond. Internationally recognised speakers will address three broad themes: What is Big Data? How do we do Big Data? How do we use Big Data in Agriculture and Food?
Speakers
Our speakers include
Professor Orla Feely, Vice President for Research, Innovation and Impact, UCD
Professor Mark Keane, Insight Centre for Data Analytics and UCD Professor of Computer Science
Mr Charles G Sheridan, Director, Internet of Things, Systems Research Lab at Intel Corp
Prof Richard Tiffin, Chief Scientific Officer, Agrimetrics Ltd
Dr Matthew Weiser, Plusvital Ireland Ltd
Professor John Hickey, The Roslin Institute, University of Edinburgh
Professor Maarten Nieuwenhuis, Professor of Forestry, UCD
Dr Claire Gormley, Assistant Professor, UCD School of Mathematics and Statistics
Mr Robert Walker, CEO, Keenan
Dr Luca Panzone, Lecturer in Consumer Behaviour, Newcastle University
Mr Ciaran Meghen, Managing Director, IdentiGEN Ltd
Click here to download the conference programme.
TICKETS:
The Symposium will be held in the UCD O'Brien Centre for Science.

Harvesting Knowledge from Big Data in Agriculture and Food
Tuesday, 8 November, 2016
Admission to the Harvesting Knowledge from Big Data in Agriculture and Food Symposium is free, however you must register to attend.
CLICK HERE TO RESERVE YOUR PLACE
Getting to UCD
UCD is easily accessible by public transport. A user friendly UCD Commuting Guide to assist you on planning your journey to UCD is available here.
Car parking is available free of charge outside of the academic semester, except for premium rate hourly paid spaces and spaces associated with UCD Sports and Fitness. For more on visitor car-parking, please click here.
Contact UCD School of Biosystems and Food Engineering
Room 303. Agriculture & Food Science Centre, University College Dublin, Belfield, Dublin 4, Ireland. T:
+353 1 716 7484
|
Location Map