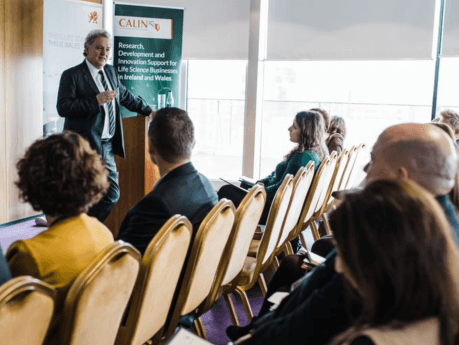 Fundamental to CBNI`s commitment to collaboration, the Centre has been a partner and coordinator on several national and international multi-partner projects since its foundation.
CBNI has core public funding from Irish government agencies, Irish Universities, the European Union, and US sources and is dedicated to finding new sources of funding and establishing new partnerships to further develop its research portfolio and to promote the most innovative research in the fields.
Read about our ongoing projects below.

Celtic Advanced Life Science Innovation Network (CALIN) is a cross-border Ireland Wales 2014-2020 programme part funded by the European Regional Development Fund through the Welsh Government.
CALIN supports Small and Medium-sized Enterprises (SMEs) in the life sciences sectors across Ireland and Wales in their product development activities by offering access to research expertise and facilities in six world-class higher educational institutions. The higher educational institutions are involved are University College Dublin, National University of Ireland Galway (NUI Galway), Tyndall National Institute in Ireland and Bangor University, Cardiff University and Swansea University in Wales.
‌
---
‌
Nanofacturing aims to design and build both pilot and large-scale manufacturing lines for the production of nanopharmaceuticals. The project focuses on the scale-up of glycan-coated nanoparticles, the latest generation of nanomedicines, and addresses the bottlenecks in the delivery of these medicines to the market. Nanofacturing has received funding from the European Union H2020 research and innovation programme.
---
NanoStreem aims to develop a better understanding of the occupational hazards related to the use of nanomaterials and a better governance of the risks related to the manipulation of nanomaterials on the workers and environment using the semiconductor industry as an example. NanoStreem has received funding from the European Union H2020 research and innovation programme.
‌
---

The project aims to build scientific foundations to support the fabrication of new hybrid nano-constructs that possess complex intra- and inter-cellular communications and involves ideas from many different fields across materials sciences, bionanoscience, biotechnology, chemical, physical and biological sciences. The aim is to extend the potential of nanotechnologies in therapeutics and diagnostics, including personalised medicine.
‌
SFI - NSFC Partnership : Precision Engineering of Nanostructure Surface Architecture for Biological and Biomedical Applications
Ensuring that nanomaterials work in co-operation with our bodies has been a challenging issue for many decades. There is now a strong global interest in enhancing the level at which biological functionality is engineered into nanomaterials. This could lead to better medical implants, coupled to tissue regeneration, as well as therapeutics that target specific places within the body, leaving the rest unharmed. This research programme aims to develop precision in construction and to provide new tools, easily and widely implementable, which will be able to monitor whether the manufactured surface has the correct properties.
‌‌
---