BOC Gases Postgraduate Student Bursary Award 2022/2023
On Tuesday the 16th of May 2023 the School was delighted to welcome Mr Dermot Browne, Sales Director at BOC Gases Ireland Limited, to present this year's awards.
Thank you to all who entered. This year's winners were:
Peter McDermott, and his project 'The Synthesis of Organophosphorus Compounds via the Functionalisation of α,β-Unsaturated Phosphonates and Phosphinates'
Benjamin Owen, for 'The Synthesis of Bicyclo[1.1.1]pentane-Containing Aromatic Lipoxin Analogues'
Clara Zehe, for her project entitled 'Advanced spectroscopy of carbon-based nanoparticles'.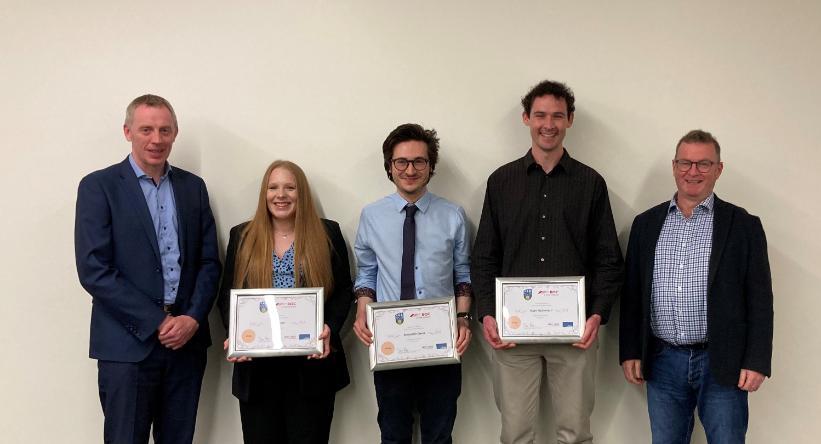 From Left: Dermot Browne, BOC Gases Ireland, Clara Zehe, Benjamin Owen, Peter McDermott and James Sullivan (Head of School).
Peter, Benjamin and Clara each gave a fascinating presentation on their research which was attended by staff and postgraduate students. Dermot commended their research work and presented each student with a framed certificate to commemorate their award.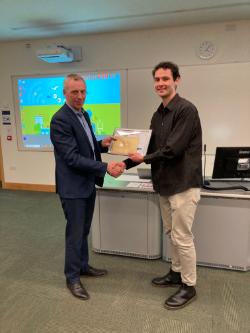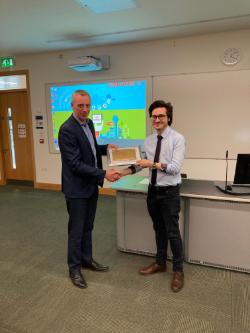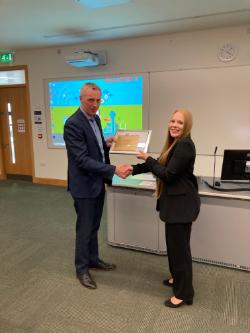 Our thanks to BOC Gases Ireland for supporting these awards since 1987, providing an annual bursary of €4000, which is split evenly amongst the winners. There have been 89 winners to date. You can view the full list on our Postgraduate Awards webpage.