Political advertising online during the 2020 general election campaign
Author: Niamh Kirk
Date: 13 February 2020
Over the course of the 2020 General Election a tidal wave of political adverts from parties and candidates have flooded Irish digital media. Over the past four weeks more than more than sixthousand adverts have been published online and as much as €32k was spent on Google and €350kon Facebook. Potentially as much as €410k has been spent by Irish political campaigners online.
However, it must be noted that that there is limited insight in the exact spend because there is no requirement for Irish political parties to disclose their online advertising spending and the digital media companies only provide estimates in the form of spending brackets. One advert from FiannaFail was listed has costing between €500 - €30k on Google.
Some insight into the volume, distribution and nature of advertising across different social media platforms can be gained from online advertising repositories. To comply with the EuropeanCommission's Code of Practice on Disinformation, Google and Facebook established online politicaladvertising libraries ahead of the European election in 2019. The limitations of these libraries is detailed extensively in the ElectCheck 2019 Report. Since then, Twitter banned political advertising as have other platforms such as Spotify.
In terms of the Irish market the two remaining digital political advertising platforms are also the two platforms with the highest reach to audiences Facebook and Google. Facebooks corporate reach is as much as 81% according to the Digital News Report 2019 and YouTube alone has 61% reach in Ireland.
Google have a somewhat laborious process of registration for political advertising and with a short campaign it is no surprise that many have not taken this route. Although some who were already registered since the European Elections have used Google and others have managed to get registered and publishing over the past few weeks. Over the past few weeks six advertisers have published a total of 157 adverts via Google according their Transparency Report for Ireland.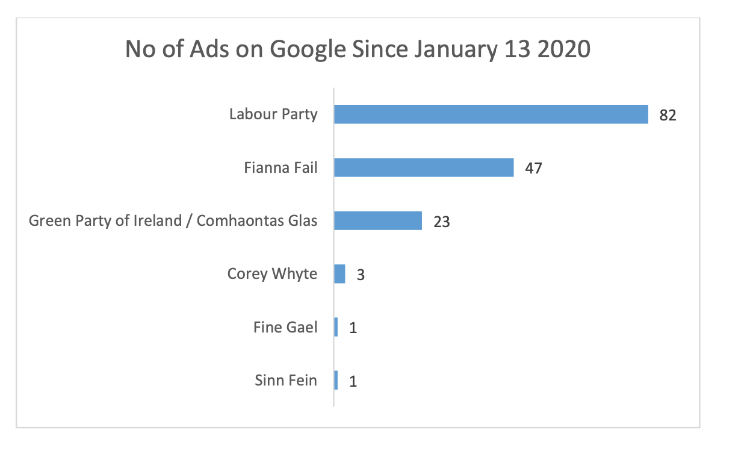 Advertising on YouTube can be expensive with the costs of producing a quality video for distribution. However, Google facilitates advertising on a host of partner websites. This lowers the cost barrier and increases the range of advert types in circulation. While Fianna Fail have invested largely in video, other such as the Greens have focused more on images, while Labour are using text.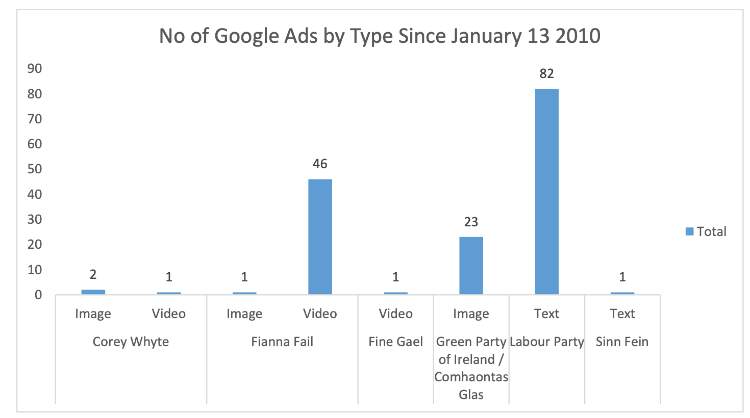 With Twitter banning adverts and Google's registration process, most of the adverts have beendirected towards Facebook and increasingly Instagram. Between January 13th and February 6th some 6039 were listed in the Facebook Ad Library with ads appearing across Facebook Inc platforms.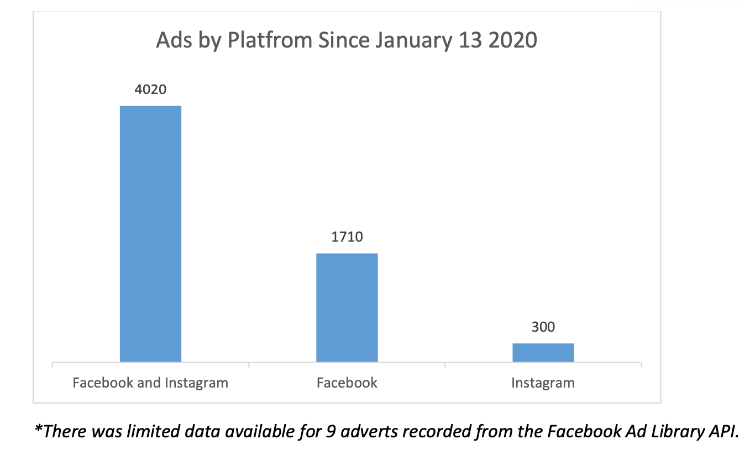 In total there are as many as 470 different advertisers listed, although not all are directly referencing the coming election because Facebook also includes adverts that speak to political issues. The cart below shows the top 50 sponsors of adverts over the campaign.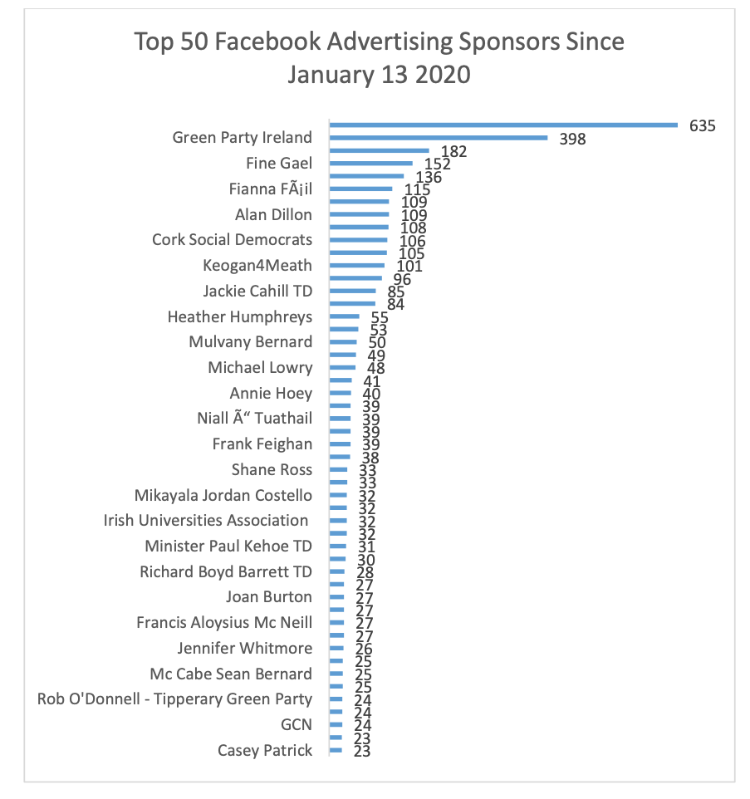 However, funders can sponsor advertising for a range of different pages. For example, a politicalparty can pay to advertise candidates via the candidate's page. The chart below shows the pages orcandidates that were most frequently promoted.
While Facebook also include issue based advertising which they consider to be "social issues may be topics discussed or debated at a national level that may influence the outcome of an election or result in/relate to existing or proposed legislation." The list of topics is non exhaustive and updated. This means that none overtly political advertisers can be included in the library and considered, by Facebook at least, as aiming to shape Irish political discourse and the outcome of the election.
The Irish Universities Association who are calling for an increase in investment in the third level education sector are also included as political advertisers. So too are companies such as SSE Airtricity who promote their green credentials.
Facebook do not fact-check their adverts and as such, anyone can make false or misleading statements during election to voters and have these messages promoted and targeted to the audiences that are most susceptible. Neither is the tone of messages regulated in any way, with some far right candidates using dehumanising content to address the issue of immigration. And while some adverts have been removed for breach of Facebook policies, it is unclear which policy resulted in adverts being taken down.
The extent to which digital political advertising can shape the outcome of the coming election remains to be seen, both in terms of candidates elected and campaign issues that ultimately can become policy. None the less, in Ireland digital political advertising remains unregulated. The ElectCheck 2019 report examining advertising during the European Election contained recommendations for changes to enhance transparency at both national and EU level was published in September but no new requirement for disclosure were introduced ahead of the General Election. As such we still have a continued lack of clarity regarding the scale, spend and character of political advertising during elections across platforms. There is a pressing need for independent media monitoring in Ireland to ensure the integrity of election campaigns although there are substantial challenges to establishing such an initiative.
The responsibility to uphold the integrity of elections and choose who gets to participate in political campaigns via these platforms lies with governments. While Facebook, and Google have made some efforts to enhance transparency regarding political advertising under the Code of Practice of Disinformation, Irish national regulators and political parties could do substantially more to codify and produce suitable information regarding their production, purchase and distribution of advertising online.