2021 UCD Conway Festival gold medal for early-stage research on treatment for rare eye cancer
Dr Husvinee Sundaramurthi has won the 2021 UCD Conway Festival gold medal for research showing new anti-cancer compounds provide promising results in laboratory tests for treating metastatic uveal melanoma.

Uveal melanoma is a rare form of adult eye cancer, with Ireland having one of the highest incidence rates per capita. Every year, there are approximately 50-60 people in Ireland are diagnosed with this cancer. Approximately 50% of patients diagnosed will develop metastatic disease, which has poor survival prognosis.

The treatment options currently available are of limited benefit once the disease spreads (or metastasises) in the body. UCD researchers along with international collaborators in Spain and Sweden are trying to identify new compounds that could be developed to treat metastatic uveal melanoma (mUM).

Dr Husvinee Sundaramurthi is a postdoctoral researcher funded through the Irish Research Council, Breakthrough Cancer Research and UCD TopMed10 fellowship who is part of a research team led by Professor Brendan Kennedy, UCD School of Biomolecular & Biomedical Science and Fellow, UCD Conway Institute.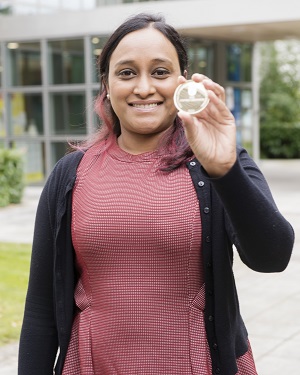 Image caption: Dr Husvinee Sundaramurthi

Husvinee's research focuses on compounds called histone deacetylase 6 inhibitors that have shown great promise as anti-cancer agents in other cancers. Husvinee is using these compounds to treat mUM cells in the laboratory to see if they can halt the growth of tumour cells.

"The results of my experiments so far show that these anti-cancer agents are potential new treatment options for mUM. The next steps will involve testing how well these compounds work in mUM cells taken from patients with this eye cancer. We will focus initially on metastatic samples but would like to screen primary tumours too if available", explained Dr Sundaramurthi.

Commenting on the award, Professor Kennedy said, "I am delighted that Husvinee has been recognised for the exemplary research that she began in April 2020. It is a testament to her and the support staff in UCD Conway Institute that the project was able to continue so successfully during the COVID-19 pandemic.

Husvinee exemplifies the international diversity of UCD research having moved from Singapore to Ireland four years ago to join my team. We are fortunate to have such high calibre scientists working on these vital research projects."
Husvinee was awarded the gold medal sponsored by Cruinn Diagnostics at the closing ceremony of the 2021 UCD Conway Festival of Research & Innovation, which took place online on 06-07 October.

Professor Helen Roche, Director, UCD Conway Institute congratulated Husvinee and 102 other early career researchers from across UCD Conway Institute who presented their research during the two-day event.

"Husvinee did an excellent job of conveying her research and findings. It is only by understanding metastatic cancer at a molecular level that the scientific community will be able to identify new therapeutic avenues to positively impact on the lives of patients", according to Professor Roche.

Husvinee competed against four other UCD early career researchers who were category winners in the moderated research presentations. They are Sophie O'Reilly, PhD student with Dr Virginie Gautier; Lorna O'Donoghue, PhD student with Assoc. Prof. Albert Smolenski; Lisa McDonnell, PhD student with Professor Keith Murphy and Gillian Carney, PhD student with Dr Tadgh O'Cronin.


The judging panel for the 2021 UCD Conway Festival gold medal was chaired by Dr Stephen Thorpe, Ad Astra Fellow in UCD School of Medicine and UCD Conway Institute. The panel included Conway Fellows, Professor Fionnuala McAuliffe, UCD School of Medicine and the National Maternity Hospital; Professor Lorraine Brennan, UCD School of Agriculture and Food Science; Dr David Gomez, UCD School of Medicine and Systems Biology Ireland; and Professor Helen Roche, Director, UCD Conway Institute.

The annual event also featured keynote lectures from Professors Oded Rechavi, Tel Aviv University; Manuela Baccarini, University of Vienna; and Pearse Keane, University College London.