Conway Fellows lead three public engagement projects awarded under SFI Discover Programme
Minister for Further and Higher Education, Research, Innovation and Science Simon Harris TD has announced €5.2 million in funding to support 49 projects as part of Science Foundation Ireland's Discover Programme.

Conway Fellows secured funding for 3 public engagement projects under this scheme. The projects include a structured transition year work experience programme led by Professors Walter Kolch and William Gallagher; Reimagining the Future - One Health, COVID and Us led by Professor Grace Mulcahy, UCD School of Veterinary Medicine and Little Big Questions led by Professor Patricia Maguire, UCD Institute for Discovery and UCD School of Biomolecular & Biomedical Science.

A structured transition year programme will invite pupils from DEIS schools linked to UCD to experience the daily life of scientists working at UCD Conway Institute and Systems Biology Ireland. Postgraduate researchers will be trained to deliver activities in the programme and will pair up with transition year pupils to train them in laboratory techniques and give them 'at the bench' insights to research projects.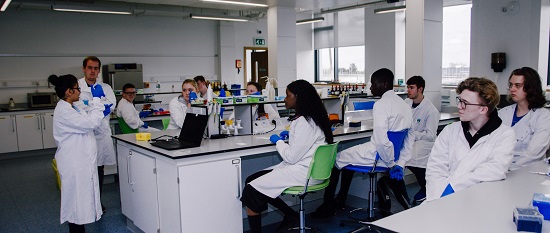 (File image: TY pupils from Tallaght Community College attend ABE Ireland workshop during visit to UCD Diabetes Complications Research Centre, UCD Conway Institute)
As well as visiting the research facilities, pupils will hear about the variety of careers available to scientists and learn that science works as a global, multidisciplinary enterprise to solve great challenges. Pupils will have an opportunity to invite their postgraduate researcher 'buddy' to their school to talk about their work.
This project will explore specific mechanisms to engage pupils from low socioeconomic backgrounds and inspire them to pursue STEM subjects and careers. It is co-designed with the UCD Access and Lifelong Learning and includes practical measures to remove barriers to access.
The project builds on our experience in offering high quality hands-on curriculum-linked laboratory experiences through the Amgen Biotech Experience and is co-funded by that project. The project team will produce a best practice guide to supporting postgraduate researchers to deliver an ambitious STEM education and public engagement activity for less represented pupils.
'Little Big Questions' takes young school children from disadvantaged areas and brings them to UCD to explore exciting science through play and inquiry-based learning in a purpose-built outreach laboratory. This programme serves as the hub for content creation and sharing across multiple platforms. The children come up with the questions that they want to learn about.
Although these questions may be straightforward, the answers can be complex. Parents and teachers sometimes struggle to answer these questions for children. As a result, children may stop asking questions because their source of information isn't able to help, leading to a decreased future interaction with science.
'Reimagining the Future - One Health, COVID and Us' will use co-created workshops with disadvantaged communities and invited experts that will involve deliberation, debate and proposals around key scientific questions arising from the experience of community members during the COVID-19 pandemic. Participants will be invited from two communities that already have links with UCD Access and Lifelong Learning, based in Ballyogan and Ballyfermot, Dublin.
Feedback has indicated their willingness to engage on STEM topics. The groups will play an important role in setting the agenda - outlining what is important to them in their lives and how they consider STEM can have an impact on these questions.
Announcing the awards, Minister Harris said, "The COVID-19 pandemic has brought home to us just how important the science, technology, engineering and mathematics, or STEM, fields are. It's vital that younger people in particular feel encouraged to participate in STEM careers, and that there are no barriers to entry.
"More widely, we want people to have access to and to understand the issues that impact our collective future, things like clean water and energy, and the role science and technology can play in providing solutions.
"The projects being announced today cover topics from biodiversity to digital wellbeing, and all points between. It's a wide-ranging national conversation about how science can and will change the world, and how we are going to deal with that as a country."
The 49 projects will take place local and nationally across Ireland covering topics including biodiversity, STEM sign language, climate action and sustainability, coding, epilepsy, understanding pandemics, digital wellbeing, and the link between music, maths, and physics. The initiatives also target a wide range of ages including young children, teens, and adults as well as some initiatives designed for young people from disadvantaged backgrounds and attending DEIS schools and those living with sight loss – encouraging inclusivity and diversity.