Results & Findings; A Report from UCD Parity Studios
Beginning an artistic residency in a research institute during a pandemic has been an unusual, if not surreal, experience for award-winning tapestry weaver, Lorna Donlon. The mini exhibition now on display in the UCD Conway Institute foyer reflects the different paths that Lorna has wandered in her head as she attempted to absorb and respond to ongoing research.
"This is an informal account of the findings and results of my year as UCD Conway Institute artist-in-residence in collaboration with UCD Parity Studios and funded through an award from the UCD Wellcome Institutional Strategic Support Fund. My intention is to 'show my workings' as opposed to attempting to hang a polished, complete and fully resolved exhibition of work", said Lorna Donlon.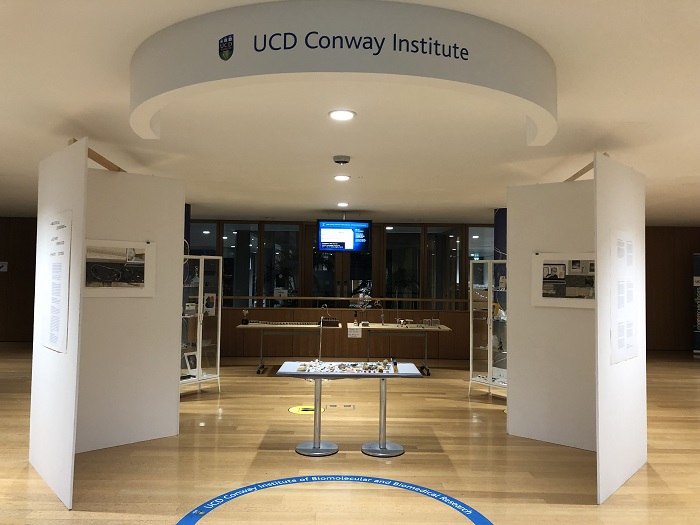 The exhibition contains a number of elements including line drawings, sculptural pieces, story excerpts and mixed media hangings. The Conway Cabinets of Curiosities is an installation inspired by the artist's contention that it is not only genetic information that gets passed down within a family. Stories, expressions and turns of phrase are also handed down, passed on and stitched into the culture of a family. Back in October 2020, this was Lorna's way of introducing herself to the Institute researchers and learning more about them.
"Initially I displayed everyday objects belonging to members of my family that acted for me as storytelling devices. I then invited Conway researchers to exchange these objects of mine for their own. Over the course of the year, the cabinets slowly evolved to house objects that tell the stories of people who share the common ground of the UCD Conway Institute."
Having had an opportunity to live with the objects in the cabinets for the year, Lorna developed Stories from the Conway Cabinets of Curiosities. These large sheets of drawings and words now document the stories behind some of the objects in the cabinets as described by the researchers who gave them to Lorna on loan.
During the past year, Lorna met with more than 30 research groups and individual scientists within the Institute. The Conversations with Research Scientists is a collection of work made in response to Lorna's experience of using Zoom to interview researchers about the science behind their research areas.
"Initially my interest was primarily in the science in the stories being told and I looked forward to the challenge of encapsulating that in my work. Instead, this work is more about the process of communicating, at a distance, with a moving, speaking image of another person, through a computer screen. I became aware of how the laptop, sitting on my bench in the studio, surrounded by the detritus of my work, was instantly transporting me into the world of another person, and they into mine", explained Donlon.
In each of these mixed media works, someone is seen on a laptop and around it, on the studio bench are items that reflect the ways in which the story being told resonates with the artist. Donlon finds the hook in each person's story and hopes that, through her connection with each story, a viewer may find a window into the unfamiliar world of the science being communicated.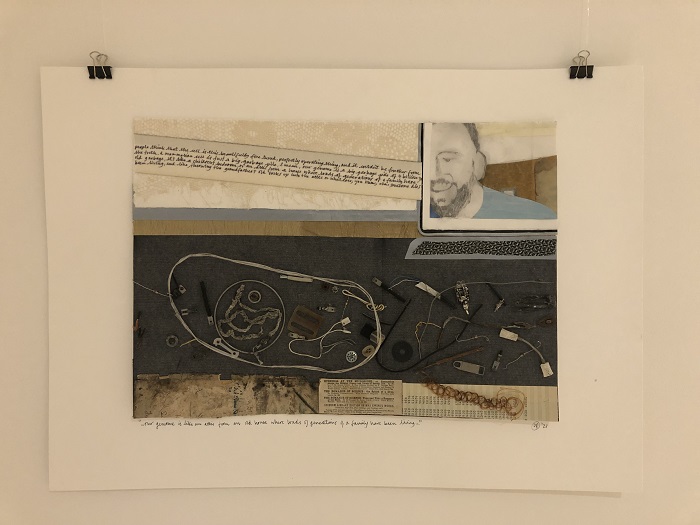 Caption: "...our genome is like an attic from an old house where loads of generations of a family have been living...". Associate Professor Rory Johnson talking about the concept of 'noise' in biology.
The Families of Molecular and Cellular Entities are a curious collection of sculptural pieces made using found objects and discarded lab materials. They are modelled on specific structures found within cells or molecules, such as the proteosome, membranes and receptors.
Fragment of a Story about Science is a construction arising from a discussion with Associate Professor Oliver Blacque about CRISPR Cas 9 technology. Oliver spoke to Lorna about his father owning a video shop and watching him repair broken videos by cutting out damaged parts and splicing in clean versions of the same section taken from spare videos – not unlike how CRISPR exploits the cell's inherent DNA repair mechanism to insert a mutated fragment of DNA.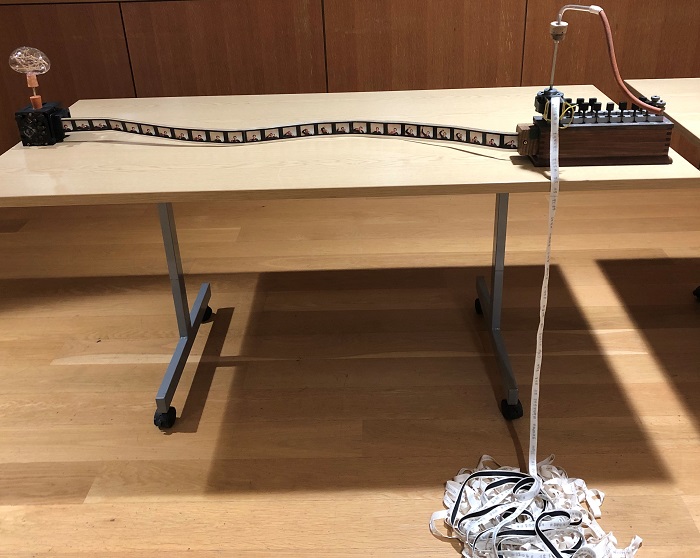 Caption: "...imagine if DNA was a piece of string that fills this room...". Associate Professor Oliver Blacque on how CRISPR-Cas 9 technology has fundamentally changed the way his research can be carried out.
Lorna explains, "I started thinking about viewing Oliver's Zoom recording as a video tape and expressing the frustrating invisibility of science. As technology becomes more and more advanced…the inner workings (or magic) all happen invisibly inside a sealed box type machine."
In this piece, we are offered a short fragment of what was a much longer story, with no context or idea of where in the story we are, when it started or when it finally ends. The fragment simply appears out of the 'condenser' and disappears into another machine, from which the text of the words being spoken emerge, spreading on a ribbon or 'piece of string' out into the room.
The mini exhibition entitled Results & Findings; A Report From UCD Parity Studios will run until the end of January in the foyer of UCD Conway Institute. Members of the wider UCD community and public are welcome to view the exhibition on weekdays (10am-4pm) from 05 January 2022 in line with prevailing guidelines (masks, hand sanitisation and social distancing).