Patients with severe COVID-19 infection have hypersensitive platelet blood cells
Irish patients admitted to hospital with severe COVID-19 infection have hypersensitive platelet blood cells that can cause abnormal clotting according to new research findings in the scientific journal, PLOS Biology.
Abnormal blood clotting has been a hallmark of the disease since the early stages of the pandemic, resulting in a high number of deaths from strokes and heart attacks.
The study was carried out by the UCD Conway SPHERE Research Group led by Conway Fellows, Professors Patricia Maguire and Fionnuala Ni Ainle; the Mater Misericordiae University Hospital and the UCD AI Healthcare Hub in collaboration with the SAS Institute.

The authors found that platelets - the small, colourless blood cells that help blood to clot - are up to ninety times more reactive in COVID-19 patients than in hospitalised patients who do not have the disease.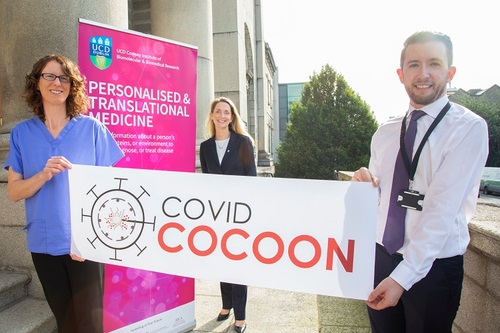 Pictured L-R: Prof. Fionnuala Ní Áinle, Prof. Patricia Maguire, Dr Barry Kevane

"Our novel findings indicate that COVID-19 is associated with abnormal platelet reactivity, which may help to explain the higher risk of dangerous thrombosis or blood clotting in the patient," said Professor Patricia Maguire, Co-Director of the SPHERE Research Group and Director of UCD Institute for Discovery.

"Our findings are of significant clinical relevance given the current uncertainty around the causes of thrombosis in COVID-19 and the optimal strategy for prevention and treatment."

When platelets are activated they secrete powerful factors that stimulate inflammation and coagulation. The Irish research group has shown for the first time that in COVID-19 cases platelets secrete these factors at between a 30- and 90-fold higher rate.

While increased platelet activity is a feature of other viral diseases, such as dengue fever and the 2003 SARS virus, the remarkably high level of platelet hyperactivity found in COVID-19 patients is unprecedented.

"Efforts to determine the precise molecular mechanisms underlying this unique hypercoagulable state in COVID-19 must now be prioritised in order to optimise preventative and therapeutic strategies."

Prof. Maguire co-led the multidisciplinary study with Dr Barry Kevane and Prof. Fionnuala Ní Áinle, consultant haematologists at the Mater Misericordiae University Hospital in Dublin.

Dr Barry Kevane, co-lead in the Mater's Venous Thromboembolism Centre said, "This research, funded by Science Foundation Ireland, highlights the important role of platelets in the abnormal coagulation activation which we now know is a hallmark of severe COVID-19. We will continue to explore this phenomenon in our laboratory and we hope that this work will improve our understanding of this disease and ultimately be of benefit to clinicians and patients."

Prof. Fionnuala Ní Áinle said, "Thrombosis is one of the most feared and dangerous consequences of severe COVID-19 infection and is the focus of international clinical trials that are ongoing right now. Our translational research, made possible by a large team of clinicians and scientists, has shed light on why our patients experience these complications."

Ms Annemarie O'Neill, founder of the patient organisation Thrombosis Ireland said: "This work by the UCD Conway SPHERE research group shines light on the reasons why patients with COVID-19 develop blood clots. The patient community is incredibly worried about the risk of blood clots. Excellent basic science and clinical trials will help doctors to prevent complications and save lives of patients affected with COVID-19."
This research was funded by a COVID-19 Rapid Response grant (20/COV/0157) from Science Foundation Ireland and the findings are available online ahead of print. It is the first publication from this funded research project.
Comer SP, Cullivan S, Szklanna PB, Weiss L, Cullen S, Kelliher S, et al. (2021) COVID-19 induces a hyperactive phenotype in circulating platelets. PLoS Biol 19(2): e3001109. doi:10.1371/journal.pbio.3001109