Exosomes as biomarkers of human and feline mammary tumours
Like their human owners, companion animals such as cats and dogs who live in family homes are exposed to lifestyle and environmental factors that may put them at risk of developing diseases such as cancer.

Cats can develop cancers that closely resemble the same illness in humans, displaying similar genetic mutations. The disease progresses faster and responds to treatment more quickly than in humans. This 'compressed pathology' is an added advantage to researchers who are trying to find positive outcomes for both humans and animals.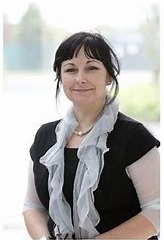 Professor Amanda McCann (pictured), a cancer biologist in the UCD Conway Institute, is spearheading comparative oncology research in UCD. This exciting emerging area of research draws on what scientists know about naturally occurring cancers in animals as well as the general studies of cancer biology and therapy in humans.
McCann's group is interested in finding biomarkers of cancer in blood. They are focused on a particular component of blood called exosomes, which are tiny particles released into the bloodstream by cancer cells. Exosomes have been found in biological fluids of humans, domestic cats and dogs and are potential biomarkers of disease.

In addition to their role as biomarkers, exosomes are known to be involved in the development of certain diseases, including cancer. The group want to use exosomes to develop a 'liquid biopsy' that can provide information to help with the diagnosis, treatment and prognosis of cancer.

The team have looked at exosome biology in triple negative breast cancer and the potential benefits of comparative research in naturally occurring breast tumours in companion animals. They recently published a review of research in this area in the scientific journal, BBA Reviews on Cancer.

Triple negative breast cancer (TNBC) is a type of breast cancer that accounts for between 10 and 15% of all breast cancer types. TNBC does not respond well to the treatments that target receptors in breast cancer. This is because TNBC typically lacks oestrogen receptor, progesterone receptor, and human epidermal growth factor receptor 2 (HER2).

Lead author and PhD student, Jane Howard explains "Using routine blood samples from companion animals, in particular female domestic cats, we can learn much more about triple negative breast cancer than by using traditional laboratory models (mice or rodents).

Mammary tumours in cats are relatively common. Feline mammary adenocarcinomas are the third most common type and resemble triple negative breast cancer in humans; it is aggressive and difficult to treat."
There are several weaknesses associated with the use of laboratory murine models in cancer research. For example, humans are 3000 times larger, live up to 50 times longer and undergoing about 105 more cell divisions in a single lifetime.

Professor Amanda McCann commented, "Murine studies will remain a critical first step of preclinical research for cancer biology and therapeutics but more efficient animal patient cohort studies are critical.
We are excited by the possibilities that comparative oncology brings to our research. The insights gained from collaborating with veterinary medicine and clinical colleagues have huge potential to improve cancer diagnosis and treatment in human and animal patients."

The authors, who include Dr Pamela Kelly, UCD School of Veterinary Medicine, as well as other researchers from UCD, St. Vincent's University Hospital, the Mater Misericordiae University Hospital (MMUH)l and the University of Edinburgh, have found strong evidence in the literature to support the complementarity of using exosomes to inform the profiling of TNBC and feline mammary adenocarcinoma.
The full journal article is available to read online.
Jane Howard, Cathy Wyse, David Argyle, Cecily Quinn, Pamela Kelly, Amanda McCann,
Exosomes as Biomarkers of Human and Feline Mammary Tumours; A Comparative Medicine Approach to Unravelling the Aggressiveness of TNBC. Biochimica et Biophysica Acta (BBA) - Reviews on Cancer 2020 https://doi.org/10.1016/j.bbcan.2020.188431.