Conway Fellows receive funding for ground-breaking projects under Disruptive Technologies Innovation Fund
The Tánaiste and Minister for Enterprise, Trade and Employment, Leo Varadkar TD, the Minister for Minister for Further and Higher Education, Research, Innovation and Science, Simon Harris TD and the Minister of State for Trade Promotion, Digital and Company Regulation Robert Troy TD announced that 29 exciting new projects have succeeded in securing funding under the third round of the Disruptive Technologies Innovation Fund (DTIF).
Three Conway Fellows are involved in two projects to receive funding under this scheme; iPATH-CAN and PERSONA.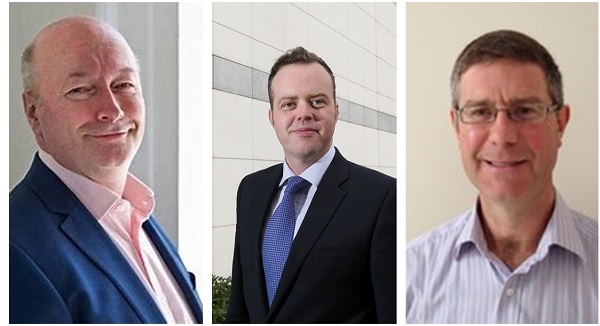 Pictured (L-R): Professors Stephen Pennington, William Gallagher, Bill Watson
iPATH-CAN, which is to receive €3 million over 3-years, is harnessing artificial intelligence to develop a tool to identify breast and prostate cancer patients with early-stage disease. The project consortium is led by Deciphex Ltd and involves Conway Fellows, Professor William Gallagher, UCD School of Biomolecular and Biomedical Science and Professor Bill Watson, UCD School of Medicine as well as Oncomark Ltd, a diagnostics company headquartered at NovaUCD.
Professor William Gallagher said, "This DTIF award builds on a substantial foundation of translational cancer research over many years in the breast and prostate cancer areas within UCD, led by Professor Bill Watson and our research group, along with more recent work in the area of machine learning by Dr Catherine Mooney and her team. The iPATH-CAN programme provides a unique opportunity to combine our strengths with those of two exciting companies in the molecular diagnostics and artificial intelligence arenas, namely Deciphex and OncoMark."
He added, "The key focus of iPATH-CAN is to provide a new paradigm for management of early-stage breast and prostate cancer patients whereby we bring together key imaging, molecular and clinical data to make better and more accurate clinical decisions."
PERSONA will receive €1.57 million over 3-years to develop the first innovative plasma sampling device for inflammatory diseases. The project constorium is led by Atturos Ltd, a UCD spin-out company founded by Conway Fellow, Professor Stephen Pennington and includes Professor Peter Doran, UCD School of Medicine; Agilent Technologies Ireland Ltd and Neoteryx Ltd.
Announcing the successful projects today, the Tánaiste said:
"The pandemic and Brexit have combined to bring unprecedented economic challenges and volatility to our enterprise sector. But with every challenge comes new opportunities and the Disruptive Technologies Innovation Fund is dedicated to entrepreneurs and researchers working on some really exciting ideas to develop solutions to the problems we face.
"These new technologies will create high-quality jobs in existing and emerging sectors, now and over the coming decades. There is a good spread of partners, based all around Ireland, highlighting the strength of our enterprise and research base all across the country.
Welcoming the announcement Professor Orla Feely, UCD Vice-President for Research, Innovation and Impact said, "UCD is a strong supporter of the DTIF initiative which drives collaboration between the higher education sector's research base and enterprises to support the development and adoption of new technologies and applications to deliver impact nationally and internationally."
She added, "I am delighted that UCD researchers are partnering in seven of the successful disruptive projects which will be funded under the third tranche of this highly competitive fund building on our success in the first two funding rounds. This strong involvement of UCD researchers reflects the strength and breadth of research and innovation activities taking place across our campus."
The Government is investing €95 million in the successful projects over the next three years. The 29 ground-breaking projects cover areas such as life sciences, medical devices, ICT, artificial intelligence, manufacturing and environmental sustainability.