Congratulations to Bo Zhang for passing her PhD Viva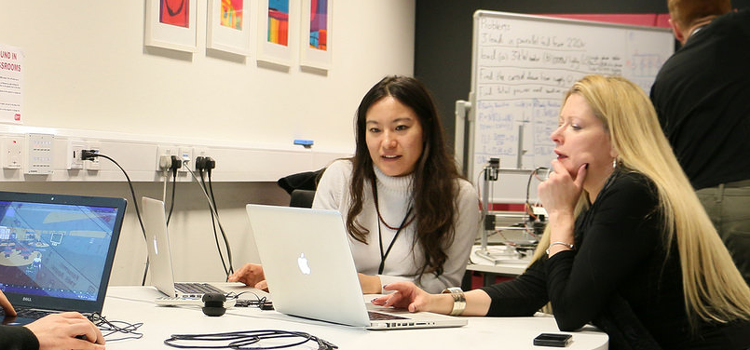 ‌
Huge congrats to our doctoral student Bo Zhang for passing her viva on 21 July! Bo's thesis is titled " Towards a Virtual Collaborative Cloud Campus: Ireland-China'. The thesis includes a practical component: the co-design, development, build and testing of a bespoke virtual world platform for Irish and Chinese cross-cultural collaboration, incorporating learning games focussed on context-specific learning about language and culture.
During the course of her studies, Bo worked closely with her Principal Supervisor, Professor Lizbeth Goodman (Director of SMARTlab & the Inclusive Design Research Centre of Ireland, School of MME, UCD) and also with her co-supervisor Dr. Joe Eyerman (SMARTlab and RTI). Her DSP included Dr Michael O'Mahony of INSIGHT, Dr Conor Galvin of the School of Education, and Dr Yurgos Politis (Marie Curie Fellow, SMARTlab). Below is a summary of her project:
" An International Education Strategy for Ireland (2016-2020) reported that 20,995 students attended Irish public and private HEIs in Ireland in 2010/2011, and this increased by 58%, to 33,118 in 2014/2015. Particularly, this significant growth was due to a rise in non-EU international cohorts, with an upsurge of 85%, from 11,604 to 21,440. There was a large increase of Asian cohorts in Ireland, with a growth from 4,448 in 2010 to 10,094 in 2014/2015. China is one of the main contributors to this increase, with 817 Chinese students (DES, Ireland, 2016 p.53).
However, many issues seem to be arising, regarding this rapidly increasing number of international students coming to study in Ireland. As Feldman (2008) has observed, 'those migrating from China, India, and Lithuania often had limited knowledge of Ireland beyond familiarity with some pop music groups, soccer, tourist information, and the weather' (Feldman et al., 2008). In addition, Feldman (2008) states that the new arrivals can often feel socially and/or culturally isolated in this unfamiliar country if they find it difficult to integrate into the local environment with Irish students and wider communities.

The gap between the demands of improving cross-cultural collaboration identified through the literature review and surveys, and the lack of sufficient university-based technical support, by reviewing the policies of China and Ireland, have been recognised. Therefore, this research was inspired by the desire to create a productive collaborative learning tool for Chinese students coming to Ireland; a desire underpinned, in large part, by the researcher's own previous challenging experiences in preparing to make this cultural transition.
The main research question explores the extent to which virtual 3D collaborative platforms informed by the theory of Gamification, can help to alleviate the difficulties and challenges experienced by Chinese international students in Ireland, who are engaged in cross-cultural collaborative learning, including addressing issues such as language barriers and cultural understanding. In response to this question, this research sought the creation of a customised bilingually-designed virtual world on a novel 3D virtual cloud platform, integrating an original Cross-cultural Collaborative Game (CCG). It is designed to enable Chinese students to safely access a variety of resources about the contexts of UCD, Dublin and Ireland more generally, and also to enhance communication and collaboration with Western students (in this case Irish students), through 3D interactive game co-play. The process of research includes how to design, build, test, and evaluate the Cross-cultural Collaborative Game (CCG) based on a virtual cloud platform. "
The prototype will provide a perfect base for a new Orientation Tool for international students arriving at UCD, from China and also from other global locations.