Understanding the risks engineers take – Vikram Pakrashi wins Laboratory Award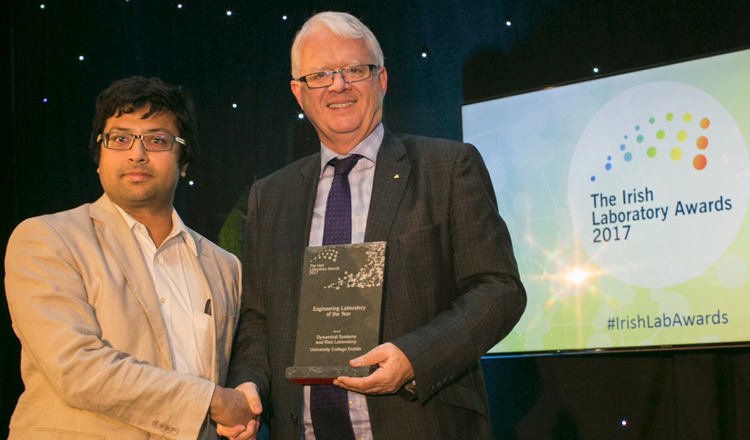 Dr. Vikram Pakrashi received the prestigious Engineering Laboratory of the Year award, 2017. This is in recognition of his fascinating work in dynamical systems and risk. Dr. Pakrashi's work looks at the risk associated with items in the built environment. This is not just obvious risks that, say, a bridge will fail – as happened in the Malahide estuary in 2009, an inquest in which Dr. Pakrashi was involved – but also the risk associated with how such a bridge might be used, and whether it can meet local traffic demands. To assess risks like these, Dr. Pakrashi's laboratory models the 'dynamical systems' (such as traffic flows) that determine the performance of these structures into the future. His laboratory also applies these techniques to other applications such as wind turbines, wave devices and buildings.
Launched in 2013, The Irish Laboratory Awards are the benchmark for those demonstrating excellence and innovation within Ireland's lab industry. The Irish Laboratory Awards recognise the successes and achievements of Ireland's internationally renowned scientists in areas including innovation, leadership and collaboration and focus on the ongoing work of Irish scientists to grow and develop a sustainable, globally competitive science research.
Dr. Pakrashi joined School of Engineering in 2016 as an Assistant Professor. He is a Chartered Engineer and has received a number of awards for research, leadership and peer review. Professor Pakrashi is an Associate Editor of ASCE Journal of Bridge Engineering and is the incoming Chair of Civil Engineering Research Association of Ireland. A number of Dr. Pakrashi's research projects have been covered by the national media in Ireland.