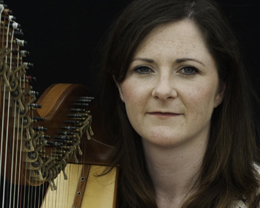 Dr Helen Lawlor is a musician and academic, specialising in Irish harping. She studied at UCD from 2004-2010 for a Masters in Musicology (2005) and PhD in Music (2010). She was awarded an Ad Astra Research Scholarship for her doctoral studies under the supervision of Professor Thérèse Smith. Helen's PhD was entitled 'Contemporary Irish Harping' and provided a musical ethnography of Irish harping in the twentieth century. She now lectures ethnomusicology, music education and Irish music at Dundalk Institute of Technology.
In 2012 Helen published her research on the harp tradition in a monograph entitled 'Irish Harping 1900-2010' (Four Courts Press). Helen has also contributed articles to the Encyclopaedia of Music in Ireland, The Companion to Irish Traditional Music, Ancestral Imprints and Sonus. While a doctoral student at UCD she co-edited Issue 3 of The Musicology Review. She has given guest lectures in the US at Harvard University, the New England Conservatory, the American Irish Historical Society and at Maynooth University, University of Limerick and University College Dublin.
As a musician Helen has performed and taught traditional Irish harping at numerous international music festivals including the Interceltic Festiva(Lorient), Scoil Samhraidh Willie Clancy and The Gaelic Roots festival in Boston. Her music has been broadcast on various radio programmes, including a feature interview and performance on the 'Rolling Wave'. She has also recorded with renowned singer Lorcán MacMathúna on his album 'An Rogaire Dubh'.
Helen is currently co-editing and contributing to a new book , 'Harp Studies' which will be published by Four Courts Press in 2015. Her research is focused on issues of gender, identity, style and transmission in Irish traditional music.