Physicist and PEARlabs Founder Receives 2022 NovaUCD Innovation Award
Wednesday, 30 March, 2022
30 March 2022

NovaUCD has today announced the recipients of its annual innovation awards which highlight successes made in areas of knowledge transfer, consultancy, entrepreneurship and the promotion of an innovation culture, by members of the UCD research, innovation and start-up community.
A total of 8 Awards, including the main 2022 NovaUCD Innovation Award, were presented by Professor Barbara Dooley, Acting UCD Registrar and Deputy President during an event held in the UCD University Club.
Professor Barbara Dooley, Acting UCD Registrar and Deputy President said, "The NovaUCD Innovation Awards which have become a key annual event at UCD, were established to recognise and highlight the successes being made by members of our research, innovation and entrepreneurial communities across the University. I would like to take this opportunity to congratulate all those who have received Awards today and I wish them ongoing successes in the years ahead as they continue to deliver impact for the economy and society through their commercialisation, consultancy, entrepreneurial and innovation activities."
The 2022 NovaUCD Innovation Award, which recognises excellence in innovation or of successes achieved in the commercialisation of UCD research or other intellectual activity over a number of years, was awarded to Professor Dominic Zerulla, UCD School of Physics.
Professor Zerulla is the founding member and principal investigator of the UCD Plasmonics and Ultra-fast NanoOptics group at UCD. Since he joined UCD in 2014 Professor Zerulla has disclosed 11 inventions to NovaUCD, 5 of which have been patented, authored four book chapters, more than 120 articles, reports and letters in the fields of Surface Science, Nano Optics, and Plasmonics and founded PEARlabs, a UCD spin-out company.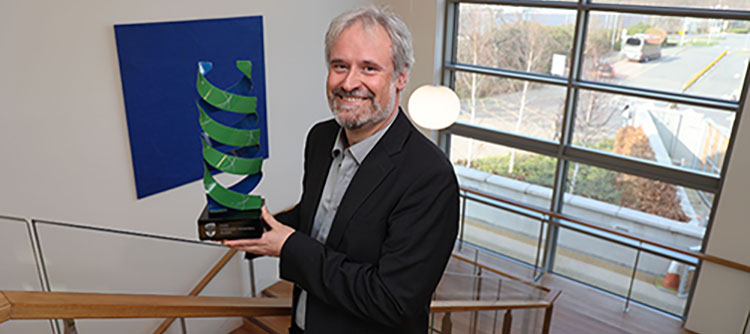 PEARlabs has developed a novel photonic chip which enables ultra-high spatial resolution at video rates in optical microscopy, far beyond the diffraction limit of visible light. The PEARlabs technology aims to transform the understanding of processes such as cell signalling and cell proliferation in cancer and other life-threatening diseases and has the potential to aid early diagnostics, precision medicine and the delivery of improved drug treatments.
Professor Zerulla has been awarded over €700k in funding through the SFI Future Innovator Prize programme to further develop the PEARlabs technology.
In addition he has recently been awarded an Enterprise Ireland Commercialisation Fund for a project entitled 'PicoGlaze' which is focused on developing smart windows to control heating in buildings, unlocking a huge energy and CO2 saving potential.
On receiving the 2022 NovaUCD Innovation Award, Professor Dominic Zerulla, said, "On behalf of myself and the wider PEARlabs team at UCD I am very pleased to receive this important Innovation Award. We are highly motivated to develop the best imaging methodology which will enable improved diagnostics and hence tailored therapies for highly relevant diseases to people."
He added, "I would like to thank the NovaUCD team for all their continuing support over the last number of years."
The other Awardees are;
2022 NovaUCD Invention of the Year Award, Dr John McCallig, UCD Lochlann Quinn School of Business and the UCD Michael Smurfit Graduate Business School, whose invention is to use privacy preserving analytics to collect and share commercially sensitive information about VAT obligations and payments.
2022 NovaUCD Spin-out of the Year Award, BioSimulytics, a UCD spin-out focused on using artificial intelligence to digitise key steps in how new drug molecules are designed and developed. The company was founded in 2019 by Professor Niall English, Dr Christian Burnham, and Peter Doyle as a spin-out from the UCD School of Chemical and Bioprocess Engineering.
2022 NovaUCD Consultancy of the Year Award, Dr Sarah Cotterill, UCD School of Civil Engineering and UCD Dooge Centre for Water Resources Research, for a consultancy study entitled 'A Framework for Improving Domestic Water Conservation in Ireland', commissioned by An Fóram Uisce (the Water Forum) through ConsultUCD.
2022 NovaUCD Founder of the Year Award, Sheena Bailey and Louella Morton, co-founders, TestReach.
2022 NovaUCD Innovation Champion of the Year Award, Professor Ronan Cahill, Professor of Surgery at UCD School of Medicine and at the Mater Misericordiae University Hospital where he is championing digital innovation and innovative solutions in surgery.
2022 NovaUCD Licence of the Year Award, Professor Andrew Keane, UCD School of Electrical and Electronic Engineering, Director, UCD Energy Institute and co-founder and CTO of NovoGrid, a UCD spin-out and a pioneer in Grid Edge intelligence software that optimises energy delivery.
2022 NovaUCD Outstanding Achievement Award, Aidan Corbett, co-founder, Wayflyer, which earlier this year became Ireland's sixth tech unicorn on securing a $150 million Series B funding round.
30 March 2022
For more information contact Micéal Whelan, Communications and Media Relations Manager, NovaUCD, UCD Research and Innovation, e: miceal.whelan@ucd.ie.
UCD College of Science
Room E1.09/E2.09 UCD O'Brien Centre for Science, University College Dublin, Belfield, Dublin 4, Ireland.
Location Map