Dr Fiona McCartney - Poster Award & Profile
Congratulations to Dr. Fiona McCartney, Assistant Professor in our Veterinary Biosciences Section, who received a Poster Award at the Conway Institute Festival 2018. Fiona won in the Personalised Medicine Section - her research is on oral delivery of insulin in nanoparticles (PI Professor David Brayden). Fiona is pictured receiving her award from Prof William Gallagher, Director of UCD Conway Institute.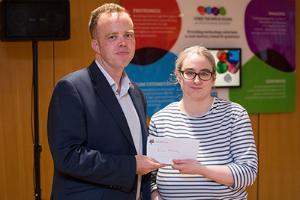 Fiona was also recently featured in a Twitter profile by the Controlled Release Society (CRS) as the CRS Oral Delivery Focus Group inaugural Trainee of the Month, focusing on her research to date. Fiona's PhD, with Professor David Brayden, focused on the use of intestinal permeation enhancers and nanoparticles for the oral delivery of peptides such as insulin. During her PhD, she was part of the European Union funded consortium TRANS-INT which investigated ways to overcome the barriers to oral drug delivery. She has also collaborated with Prof. Caitriona O'Driscoll's group at University College Cork on the use of cyclodextrins to deliver insulin orally; this work has recently been published in the Journal of Controlled Release.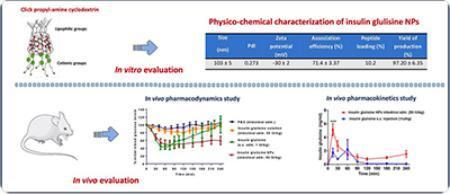 Fiona has also presented her work on both national and international platforms. She presented to the annual CRS meeting in Boston in 2017, was awarded the best postdoctoral presentation at the 10th Annual Irish Epithelial Physiology meeting, and received the UK and Ireland Research and Development Award 2018.
For more see: https://twitter.com/CRS_FG_Oral/status/1075398548819185664
Contact the UCD School of Veterinary Medicine
UCD Veterinary Sciences Centre, University College Dublin, Belfield, Dublin 4, Ireland. T:
+353 1 716 6100
|
Location Map