From the Archives: What We Do: Department of Veterinary Physiology and Biochemistry
Frog practicals and listening to cows' hearts are some of the activities which one would expect on the syllabus in the Department of Veterinary Physiology and Biochemistry ... but Public Speaking might cause an embryo vet to raise an eyebrow. Yet head of department Professor Barry Leek believes it is a very important subject.
"Communication skills are vital for running any business - if a vet can't effectively communicate a diagnosis and prognosis to a farmer, for instance, he'll call another vet the next time."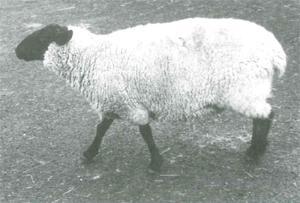 Students study Veterinary Physiology and Biochemistry in the first two years of their five-year programme of Veterinary Medicine. Professor Leek regards them as 'foundation' courses because they deal with healthy animals. "While anatomy deals with the structure of animals, in physiology we look at how those structures work - for example, investigating how a muscle or a message from the brain causes a limb to move. Biochemistry deals with the normal functioning of chemical substances in the body such as enzymes. Both courses are mainly concerned with domestic animals - farm animals, horses, poultry, and household pets - but we also have an interest in zoo and laboratory animals, and in fish."
From third year on, students are ready to look at what can go wrong, in courses such as Veterinary Pathology. These also interact with subjects in other veterinary departments, such as Animal Husbandry and Production because an animal's diet can affect its physiology: a cow on a high concentrate ration, for example, would have quite different metabolic characteristics from those of a store animal on a maintenance diet of grazing or hay.
In Biochemistry, standard bench tests are used to analyse the chemical structure of tissue and other substances such as milk, meat,urine and muscle. In the Physiology course, students often learn by using themselves as subjects, taking measurements of each other's respiration, heart performance and other functions. Laboratory animal experiments include examination of the properties of nerve and muscle samples from frogs.
'Field' experiments take place at Chantilly Farm near Shankill, a 30-acre farm owned by UCD. "We assemble a mixture of farm and domestic animals there and the students apply the techniques and results learned of in their bench tests to examine them. By performing ECGs across a variety of animals, for example, they would get an understanding of the activity and responses of the heart in different species."
Every student also works on a project chosen from a list of 75 topics. Each is a mini-thesis involving writing an essay, laboratory work, providing an abstract describing the experiment, and making a presentation to the rest of the class. The presentations are recorded on video and used for revision purposes. Professor Leek regards the projects as probably the most important part of the programme. "They incorporate what I believe are the four main objectives of university teaching: imparting basic information, developing an understanding of knowledge, applying such knowledge to problem-solving, and acquiring communication skills through written and oral presentation of work. Computers now also play an important role in the analysis and presentation of student work."
The department has 12 staff, for an average intake of 75 students per year - five tenured academic staff, a research demonstrator and six technicians, two of them graduates. The teaching arrangements are part traditional and part innovative: core teaching is through lectures, but these represent less than half of the course; the balance is practical work.
There is also departmental involvement in research and commercial activity. There are currently two postgraduate students, one working in the department's principal area of research interest - digestion in sheep and cattle. This has resulted in contract research for a food additives company, Alltech, examining the action of the company's products on animal digestion. There is also research being conducted on ways of neutralising ammonia waste produced by fish, on cardiovascular problems in dogs and horses, and on nervous function in chickens.
This article originally appeared in UCD News, January 1993.
Contact the UCD School of Veterinary Medicine
UCD Veterinary Sciences Centre, University College Dublin, Belfield, Dublin 4, Ireland. T:
+353 1 716 6100
|
Location Map