In Profile: Marissa Silva
Marissa Silva graduated from the School of Veterinary Medicine's MVB programme in 2016 and has since returned to her native California to take up a post with the California Department of Food and Agriculture (CDFA). Growing up working on her grandfather's suckler operation in Sonoma County and raising sheep, Marissa completed her Animal Science degree at California Polytechnic State University, San Luis Obispo on the central coast of California in 2012 before making the move to Ireland to study Veterinary Medicine. She is passionate about educating the public about their food supply, promoting an international 'One Health' message, and understanding small producer / backyard agriculture dynamics.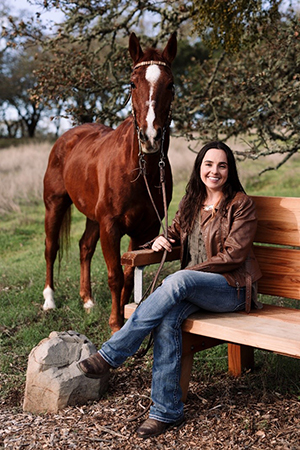 Marissa is based in Northern California, working with CDFA's Antimicrobial Use and Stewardship (AUS) programme. AUS is responsible for the assessment, education, and enforcement of antimicrobial use for livestock in California. This is the first State mandated programme in the United States to address antimicrobial resistance in livestock by bringing all medically important antimicrobial drugs under veterinary control. Marissa is part of a small team of veterinarians, scientists, and regulatory experts tasked with implementing legislation through this collaborative programme. As a 'public practitioner,' Marissa facilitates relationships between veterinarians and livestock producers, helps assess the shortage of large animal veterinarians, and works to reduce antimicrobial resistance by generating regional best management practices in response to California-specific disease challenges. She is thoroughly enjoying the work - 'it's amazing to be a relatively recent graduate making an impact on animal and public health in this way.' California has the largest agricultural economy in the US, with various animal production commodities, including dairy, beef, and poultry, and extreme geographical diversity that presents unique and satisfying challenges for working with livestock.
Marissa and her colleagues in the AUS Programme have recently published a report on their activities over the past 12 months. Their report, delivered to the California Legislature, describes how CDFA has developed strong relationships with federal, state, and academic partners to gather meaningful data that will help improve antimicrobial use decision-making and inform the development of antimicrobial stewardship guidelines for California's diverse livestock industries and producers. In 2019, the AUS programme will focus on analysing and reporting the results of initial data collection activities and developing scientifically valid resources for veterinarians and livestock owners as they promote antimicrobial stewardship while protecting animal health and well-being.
For more information on the AUS programme see: https://www.cdfa.ca.gov/ahfss/AUS/
Contact the UCD School of Veterinary Medicine
UCD Veterinary Sciences Centre, University College Dublin, Belfield, Dublin 4, Ireland. T:
+353 1 716 6100
|
Location Map