Recent Awards & Achievements
Associate Professor Alison Hanlon was appointed to the National Committee for the Protection of Animals Used for Scientific Purposes on 9 January. The NCPA is an advisory public body, responsible for providing advice to the Health Products Regulatory Authority (HPRA) and Animal Welfare Bodies of establishments regulated under SI No 543 of 2012.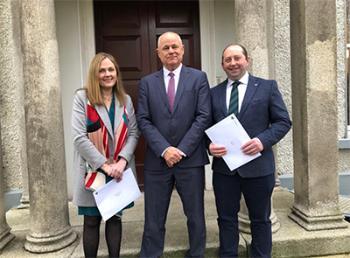 Assistant Professors Niamh O'Donoghue (Veterinary Nursing) and Eoin Ryan (Herd Health & Animal Husbandry) were presented with Excellence in Teaching Awards in the College of Health and Agricultural Sciences in November (pictured with the Dean, Professor Michael Doherty). There were 53 awardees at College level across UCD, and 9 of these were subsequently further honoured with University level awards - we are delighted that Niamh is among them! Teaching Excellence Awards recognise individual faculty for sustained commitment to teaching excellence and student learning.
Congratulations to Associate Professor Emma O'Neill and Dr Annetta Zintl who have been appointed as Fellows in Teaching and Academic Development. Two Fellowship research teams have been formed to focus on university-wide enhancement in teaching and learning through strategic policy and practice-based research over the next two years. Emma is in the 'Designing for Learning in the VLE' group, whilst Annetta will work with the team tasked with addressing the theme of Teaching and Learning Across Cultures.
Contact the UCD School of Veterinary Medicine
UCD Veterinary Sciences Centre, University College Dublin, Belfield, Dublin 4, Ireland. T:
+353 1 716 6100
|
Location Map